Poor St. Patrick's Day. While the other holidays are having crafty fun with egg dying, jack-o-lantern carving and cookie decorating, St. Pat's signature activities involve drinking and pinching. Searching for something a little more creative, I checked my favorite sites and the wider web. The results were extremely lacking in inedible Irish fun; a certain craft goddess's mega-site lists exactly 11 St. Patrick's Day crafts, and two of them are food. So after considering the many holiday icons (pin the pot of gold on the rainbow, anyone?), I turned to the potato.
Block printing from potatoes isn't revolutionary (in fact, you probably tried it as a kid), but it has its share of exciting applications. You can quickly and inexpensively create a stamp of anything you want! Just choose a shape that's relatively simple and that makes sense as a stamp (for example, you want to use it repeatedly, like a pattern or an initial). It's a great way to add patterns to surfaces that are typically hard to embellish, like pillowcases or other textiles.
I used a heart cookie cutter to quickly create my shamrock pattern, but you can also draw and carve from scratch!
Supplies:
Potatoes (or apples)
Paint (fabric paint or ink if you want to print totes or shirts, but washable paint etc. works for paper)
Paper plate
Small cookie cutters
Knife
Blank note cards, tote bags or t-shirts to decorate
1. Cut your potato in half. Actually cut it about 60/40, and use the slightly larger side to make your stamp.
2. Verify that your cookie cutter is smaller than your potato. If it is, press the cookie cutter into the cut side of the potato.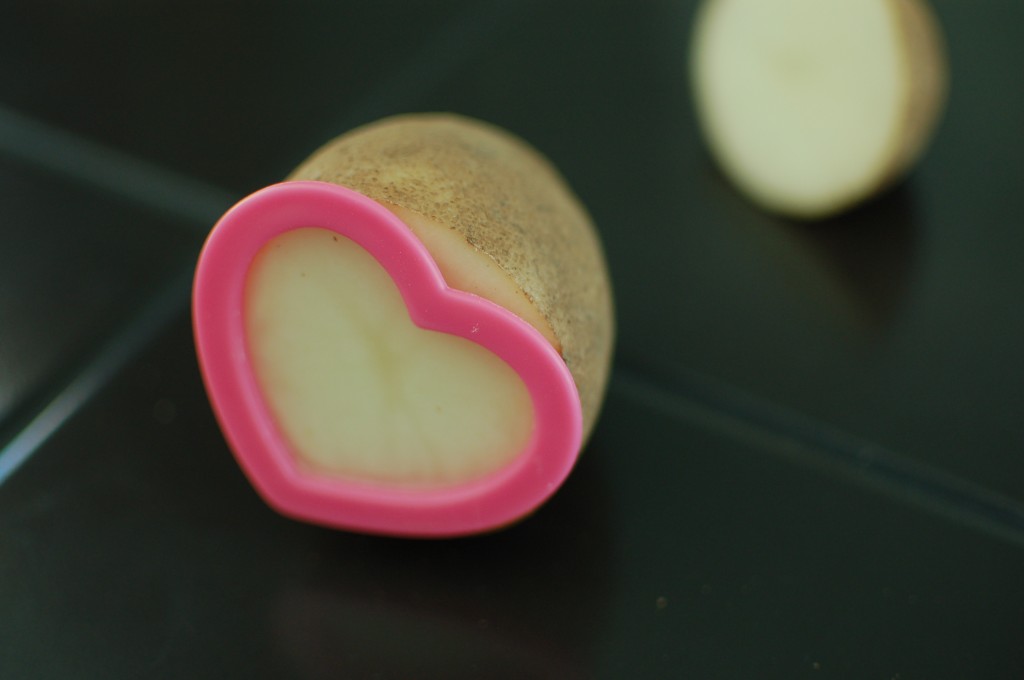 3. With the cutter still embedded in the potato, cut around the edge of the potato. You'll feel the knife hit the edge of the cutter — make sure you get all the nooks and crannies.
4. Remove the cut potato pieces.
5. Remove the cookie cutter.
6. Squeeze a dab of paint onto your paper plate and start stamping! It takes a few practice runs to get the right amount of paint, and it's important to apply it as evenly as possible. I occasionally used my finger to smooth out the globs, especially around the edges.