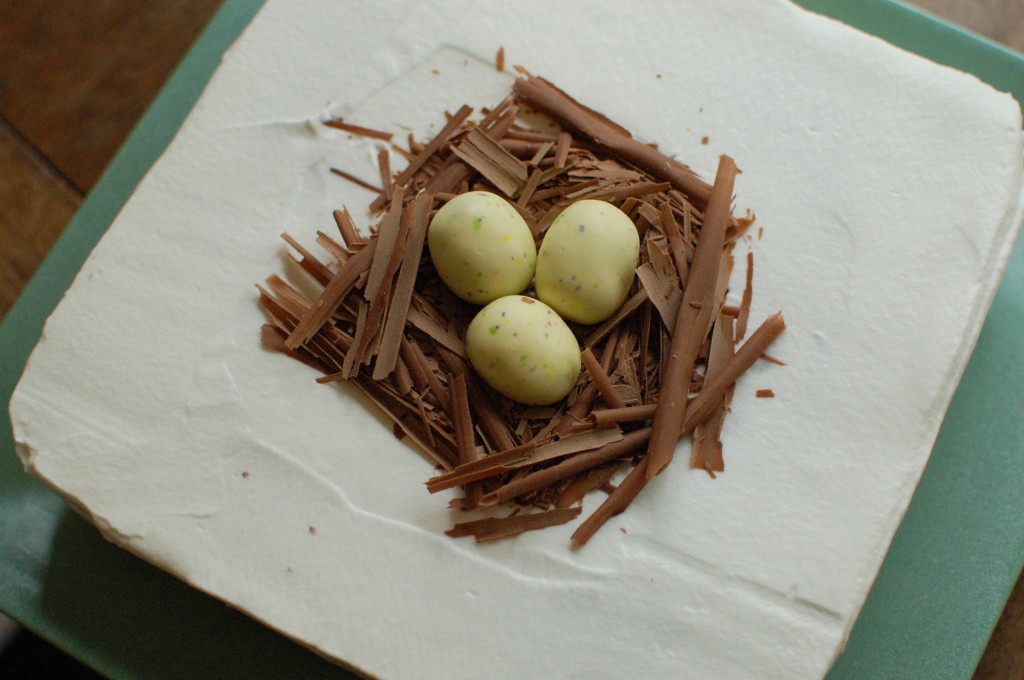 I'm not exactly an expert at frosting cakes, but I won't let that scare me away from occasional cake decorating! I was looking for a cute and springy topper for two Easter tres leches cakes and decided little chocolate bird's nests were the perfect solution: easy, inexpensive, and adorable! Though I made them for Easter, these nests would be great for any spring soiree, Mother's day, or showers! (Just stock up on the malted milk eggs pre-Easter).
Supplies for one cake-top nest:
Two chocolate bars (more if this is your first try — I broke a couple first!)
Chef's knife
Cutting board or other hard, flat surface
Malted milk eggs
1. Place the chocolate bar face down on the cutting board and make the long chocolate shavings by scraping the flat (back) side of the chocolate bar long-ways. I found that attempting to hold the bar just caused it to snap in half. Room temperature chocolate is best — too cold and it will snap, too warm and it gets squishy. If it gets warm from your hands, just refrigerate it for a few minutes. Because chocolate bars are perforated, you won't be able to use the whole bar before it separates. (Oh no! Leftover chocolate!)
2. Assemble your nest: use small and broken shavings first, to establish the circle. Add longer shavings around the edges of the circle to build up the sides of the nest just a bit. If you used a soft frosting underneath, sprinkle carefully — stray pieces are a pain to pick out! (Having few stray pieces is cute and adds character, but if you really need to remove a few, use clean tweezers).
3. Add eggs and you're finished!
You can make mini-nests to decorate cupcakes, just use peanut m&ms or jelly beans in place of the larger malted eggs.