This weekend, Greg and I cooked up a Valentine's dinner for several of our couple friends, and it was all so much fun! For an appetizer, we served heart-shaped bruschetta with tomatoes, basil and goat cheese. Using goat cheese was such a good decision. Wow. Anyway, it's a good thing that we had a tasty (cute) appetizer on hand, because making dinner took way longer than anticipated. (Oops!)
Supplies:
4 medium tomatoes
1/3 cup shredded fresh basil leaves (or 1 tablespoon dried basil)
Salt
Ground black pepper
1 loaf of bread (e.g., French)
Olive oil
2 garlic cloves
Goat cheese
Heart cookie cutter
1. Core and dice the tomatoes into 1/2″ cubes
2. Combine the tomatoes and basil in a mixing bowl. Salt and pepper to taste.
3. Place the tomato mixture in the fridge.
4. Slice the bread into 3/4″-thick slices.
5. Cut heart shapes out of the bread slices using the cookie cutter.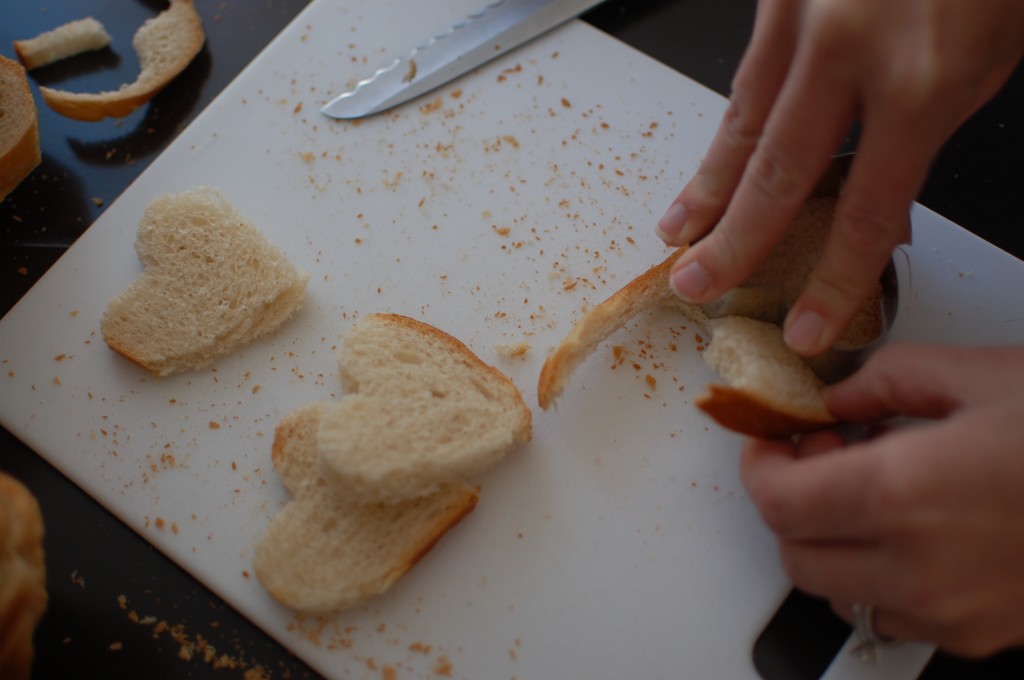 6. Turn on the broiler. Broil the bread hearts on a pan about 4 inches from the broiler until they turn golden brown (about 1 1/2 minutes).
7. Turn over the hearts and broil that side until golden brown.
8. Remove the hearts from the oven and brush them on both sides with olive oil.
9. Peel and chop the garlic cloves in half and rub them on both sides of the bread hearts.
10. Spread goat cheese over the top side of the bread hearts.
11. Spoon the tomato topping over the hearts using a slotted spoon.
12. Plate and serve!