Valentine's Day is the perfect excuse to make pretty things and cook fancy food! I love it. And there's something for everyone when dinner includes enough steak to balance out the doilies!
For our Valentine's Day dinner party, Jillian (our hostess!) already had the perfect dishes. We placed her homemade Valentines on top, acting as place cards. Down the center of the table, we scattered conversation heart candies between fresh-cut camellias and candles! We also added straws to each water glass, topped with a heart.
For the meal, Greg and I served bruschetta as an appetizer, followed by coconut shrimp, steak, mashed potatoes and asparagus. (In our rush to get the late food on the table, we didn't take photos!) For dessert, my friend Kelley and I baked cut-out heart cookies and a cherry pie.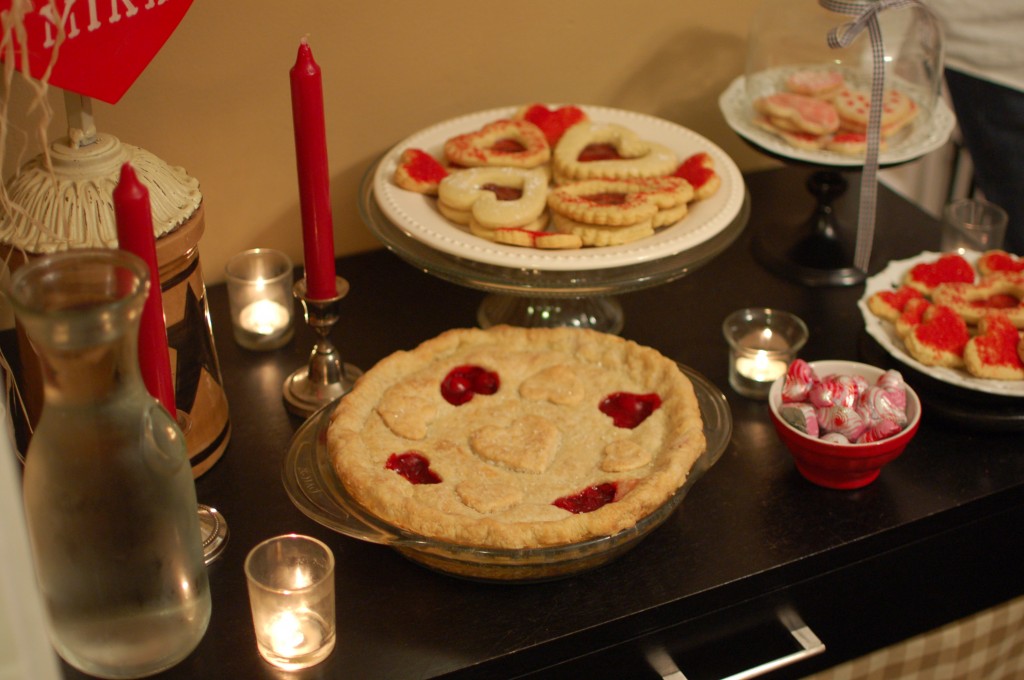 We also had a red and pink dress code! Greg picked up a new tie, just for the occasion.
This dinner was particularly delightful because co-hosting it meant lots of prep time with friends! Greg and Phil got to spend a little quality time together with wood glue after the dining room table collapsed! And between baking with Kelley on Friday night and decorating with Jill on Saturday, I would have been happy even if we'd torched the food! (OK, it would have been sad if we ruined dinner, but you know what I mean.)
Happy Valentine's Day!