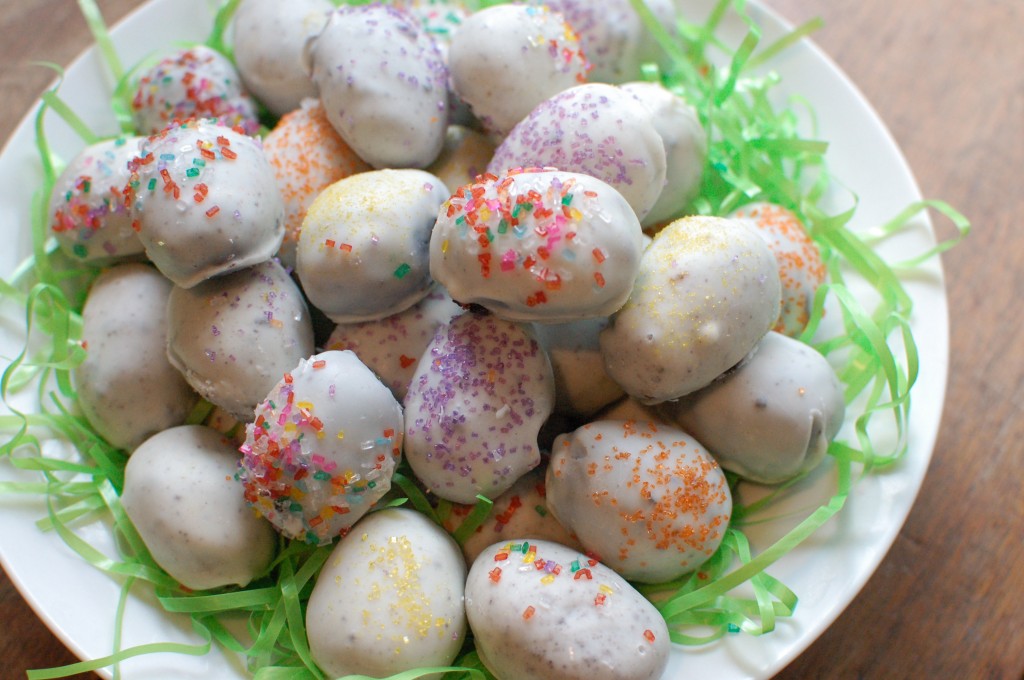 Have you tried the Oreo truffle recipe from Kraft? Oh. my. gosh. SO good! As if Oreos needed any improving.
Brown chocolate balls might not be the prettiest spring table decoration, but try dipping them in colors or adding sprinkles! I made this egg-shaped variation for Easter, and — though slightly harder than the basic truffle shape — they turned out adorable!
Supplies
1 package Oreo cookies
1 8 ounce package of cream cheese (softened)
White chocolate bark
Sprinkles
1. Chop or crush Oreos to a fine consistency in a food processor (preferred method) or ziploc bag (with rolling pin).
2. Stir softened cream cheese into the crushed Oreos, using a large spoon to mash the two together.
3. Roll the mixture into eggs about 1″-1.5″ long and place them on a wax-paper-covered cookie sheet.
4. Freeze the uncoated eggs for a few minutes.
5. Melt the white chocolate bark as directed on the package. Re-melt chocolate as needed to maintain a smooth and liquid-y consistency for dipping.
6. Dip the eggs into the chocolate, tapping off the extra and setting aside on a wax-paper-covered cookie sheet.
7. Before the chocolate hardens, decorate the eggs with colorful sprinkles!