Greg's company had a Halloween party yesterday, and we needed an easy dessert to compensate for all the time recently spent on our Halloween costumes (coming soon!). It also needed to be particularly delicious because after winning a few prizes in his company's summer bake-off, Greg has a reputation to maintain!
We turned to our chocolate bundt cake recipe — we keep the ingredients stocked and it's a one-bowl, cake-mix-based kind of dessert. It's also ridiculously moist and works well for a crowd (bundt cakes cut nicely into small pieces). The cake was done in an hour, ready and waiting for a little flair. I typically just sift powdered sugar over the cooled cake (Another bonus to this cake! No fancy frosting required!), but that isn't very Halloween-y.
We decided to use paper bats as stencils, based on the bat template from a garland we made last year. Greg just printed it at 25% (4 to a page), and we cut them out of regular paper. Arrange the paper bats on top of the cake, then pile on the sifted powdered sugar! Be sure to press the bats securely to the cake, which is trickier than usual with the curves of a bundt cake (brownies are a breeze). It's also important to make sure that the cake is completely cool before adding the powdered sugar – otherwise the cake absorbs it!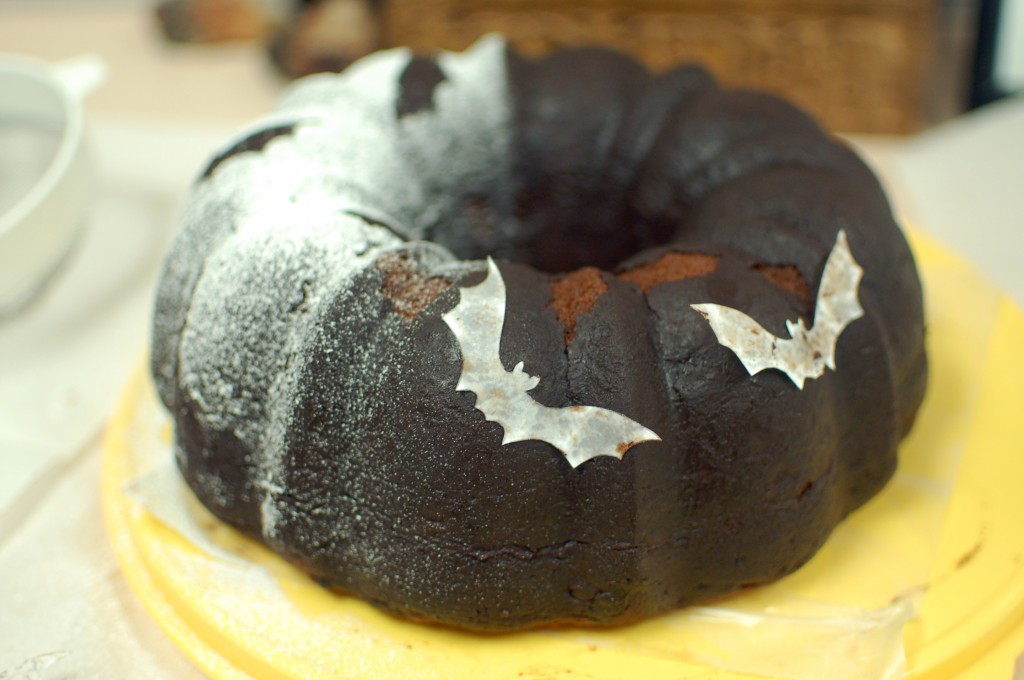 Greg did a great job — he already out-cooks me, but now he's trying to out-bake me!
I've tried a few versions of this recipe and had the most luck with this one:
Ingredients:
1 yellow cake mix (or devil's food for even more chocolate)
1 5.9 oz package instant chocolate pudding mix (5.9 oz! Write that down! Many times I've stood at the store staring at the gazillion sizes, unsure which box to buy)
1 cup sour cream (we often use fat free, and you'd never know it)
1 cup vegetable oil
4 eggs
1/2 cup warm water
2 cups semi-sweet chocolate chips
Directions:
1. Preheat oven to 350 degrees. Grease and flour (or use cocoa powder) a 12 cup bundt pan.
2. In a large bowl, mix together the cake and pudding mixes, sour cream, oil, eggs and water. Stir in the chocolate chips and pour batter into prepared pan.
3. Bake for 50 to 55 minutes, or until the top is springy to the touch and a wooden tester comes out clean. Cool cake thoroughly in pan at least an hour and a half before inverting onto a plate.