23 Nov
There's still time to pull together a festive Thanksgiving table! I'm speaking from experience, since Greg and I did all of our Thanksgiving prep for a Saturday dinner in less than 24 hours! (Except for the turkey. We bought it two days before. But if you use cold water to defrost it, you only need 5 hours or so.)
Set your table with these pieces to achieve a similar look:
1. White dinner plates. They're the perfect blank slate and can be tailored to (almost) any occasion. They're also inexpensive, so definitely a worthwhile investment.
2. Burlap. At $2-3 per yard, it's the cheapest table runner you'll ever buy. Getting it to size is also relatively easy, since the rustic burlap look doesn't require hemming. Just iron, trim and go.
3. Colorful natural elements. If I can find red leaves in Southern California, then I'm sure you can get them where you are! Sprinkle them down the center of the table or fill a vase with branches. They're better fresh, before they turn brown and crunchy. Also fill various vases with warm-colored blooms — one fresh flower arrangement can easily split into several vessels.
4. Rustic natural elements. I used pine cones and log slices, but acorns and branches also fit the bill.
5. Candles. They're the least expensive way to add elegance to a table. I like mixing and matching for a less formal look — a taper candle here, a candle in a jar there.
6. A bit of gold. I love the sparkly wine glasses that I scored on last year's holiday clearance. Gold chargers, votive holders or napkin ring holders would also work!
7. Something personal. I added leaf-shaped cookies to each plate, in lieu of place cards, as our dinner was small. Favors, flowers or pinecones would work, as well.
I applied the same elements from the table to other areas of our apartment, just on a larger scale.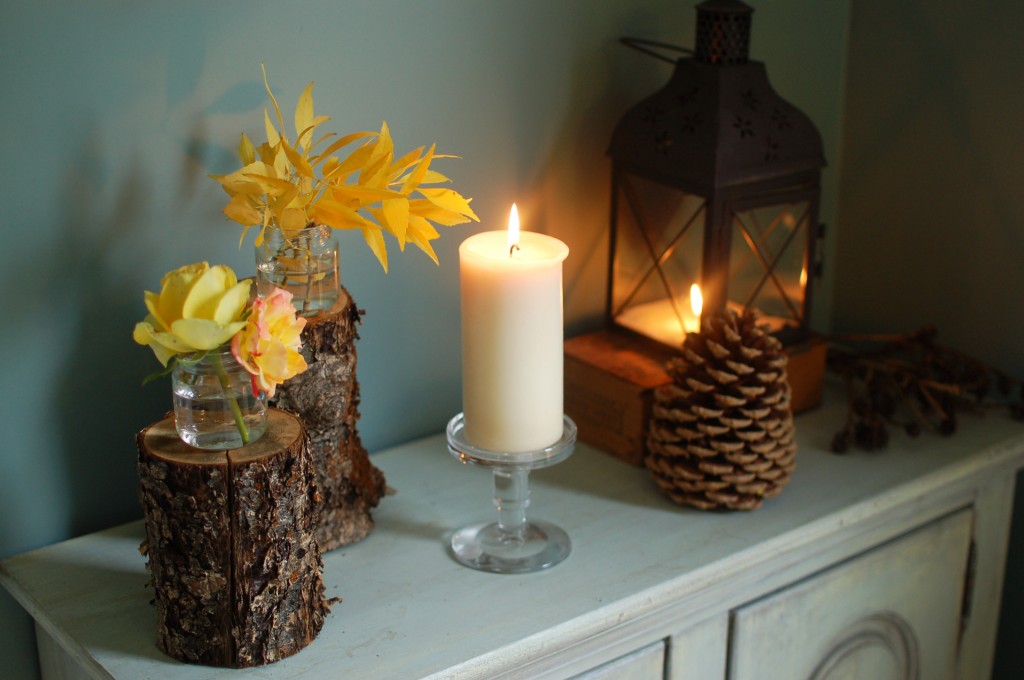 Happy Thanksgiving!