They're like crayons and a paper tablecloth, but prettier!
You may have noticed these peeking out on our Thanksgiving table post. At the (very) last minute, Greg and I spray-painted plastic chargers with chalkboard paint to add to our holiday table. I wrote the name of a guest on each charger and then tucked them under the plates.
When dinnertime rolled around, each guest took a random seat and was handed a piece of chalk. We each uncovered the charger at our spot and wrote something(s) we were thankful for about the person whose name we found. Then we passed them one spot to the right, until they circled the whole table!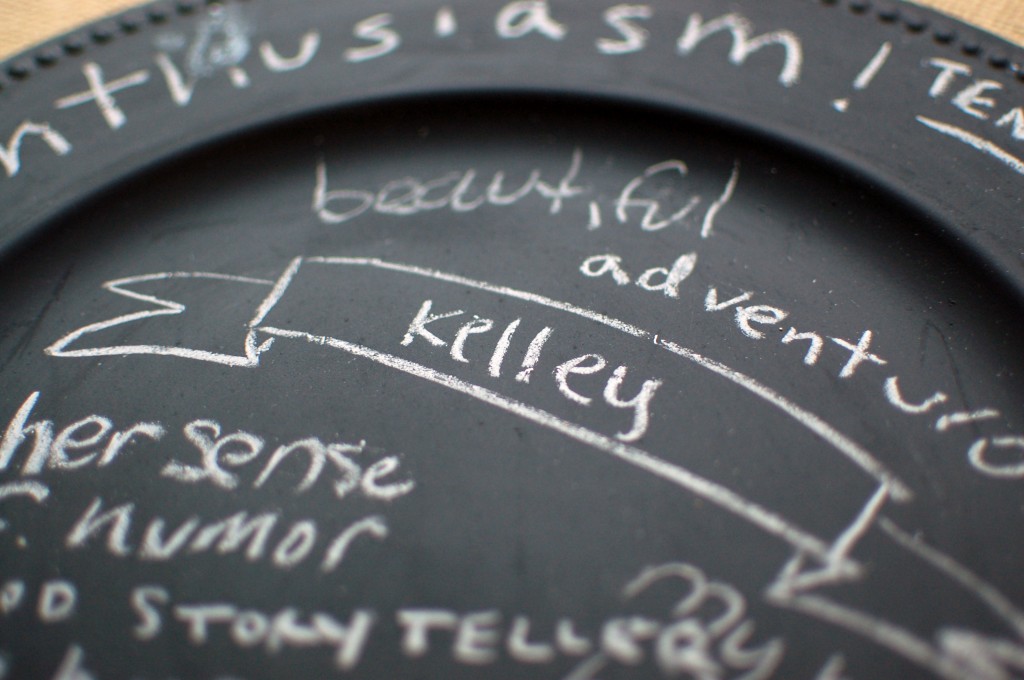 Everyone seemed to genuinely enjoy this little pre-dinner activity, but the possibilities are endless. They look pretty unadorned or can be illustrated for any occasion. They're perfect for little notes of encouragement at family dinners. With larger chargers, you could even write dinner party guests' names on the rim as place cards.
With the abundance of holiday decorations in the stores, this is the perfect time to stock up on chargers. Ours (originally silver-colored) were just $1 each. They aren't quite as large as I expected, though, so measure your dinner plates and take measuring tape to the store with you to size up your charger options.
Painting them is easy, but you can check out our chalkboard picture frame post for more details. Greg bought a primer specially for plastic and, though they've only lived through one meal, they're in great shape so far!