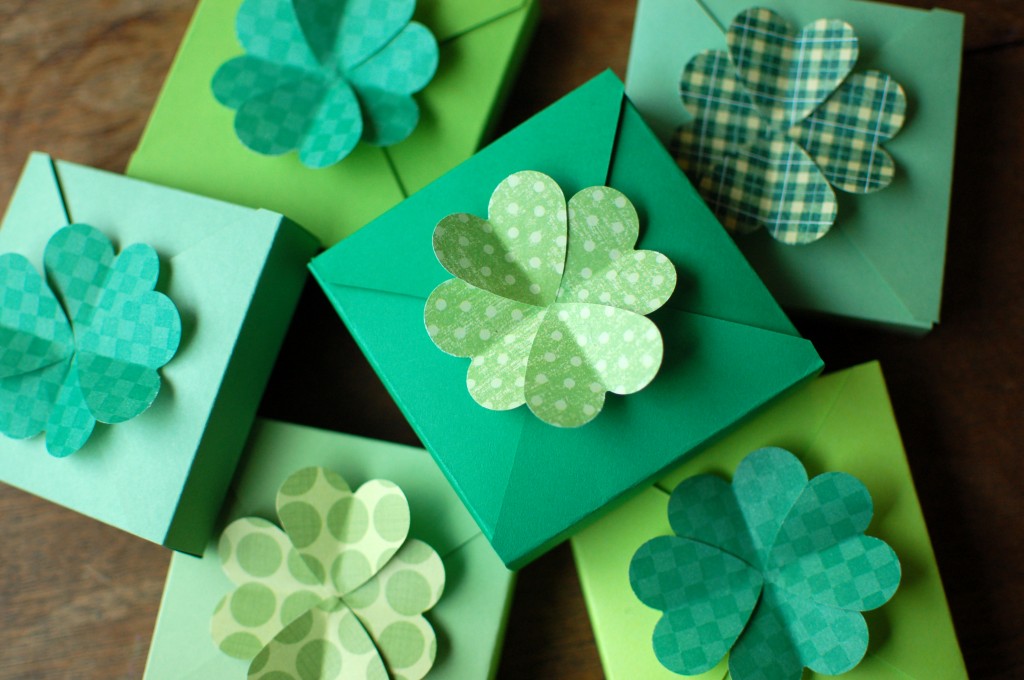 I love party favors. They're often one of the first things brides cut from wedding budgets, but I'd never dream of it! For less than $1 per person, you can both say "thank you" and give your guests something to remember your wedding by. Even more than that, favors also serve as a decoration — they're a completely customizable way to extend the theme of your party and add another fun element to the event.
When I have the chance, I like to include favors at smaller occasions, as well, and I made a couple dozen of these shamrock boxes for a party last week. I didn't have enough of any single color paper to make them identical (as I might have done otherwise), but I loved how the combination of greens came together! The same idea would be perfect for Easter — spring hues, paper flowers on top, and jelly beans inside. I just might have to make another batch!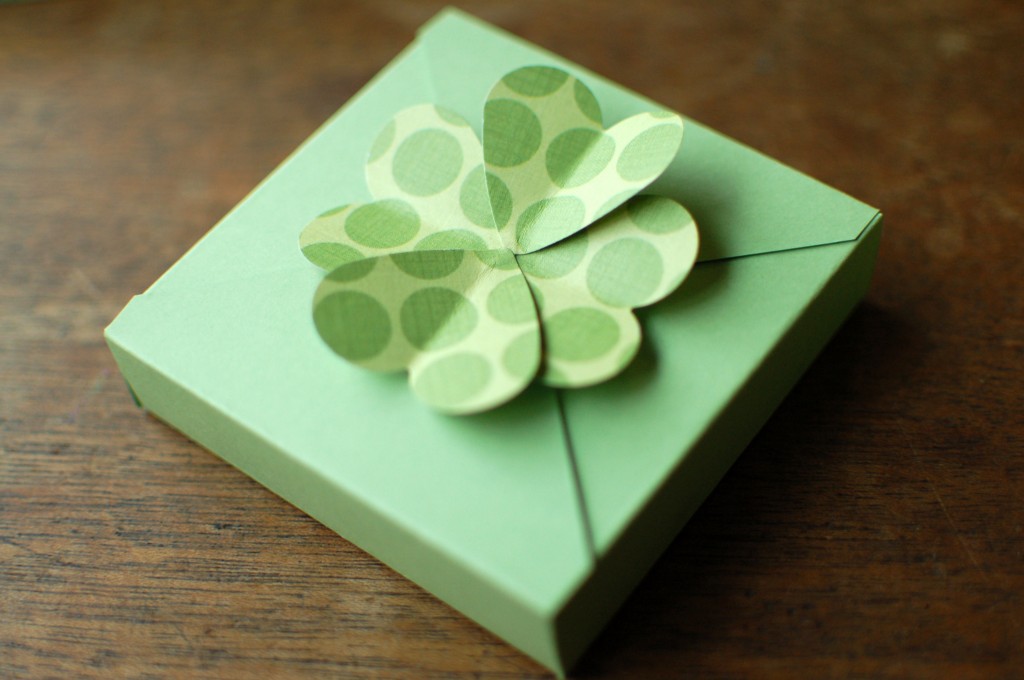 Supplies:
Solid colored card stock, 6 x 6 inches per box (4 boxes per 12 x 12 sheet)
A few sheets of patterned scrapbook paper in coordinating colors and patterns
Printer
Scissors
Clear tape
Elmer's School Glue or similar
Heart punch (if making shamrocks)
Hot glue and gun
To make card stock favor boxes:
1. Print and cut out box template.
2. Trace template onto scrapbook paper. Add little marks on the outside of the main shape to indicate the fold (dotted) lines.
3. Cut and fold boxes.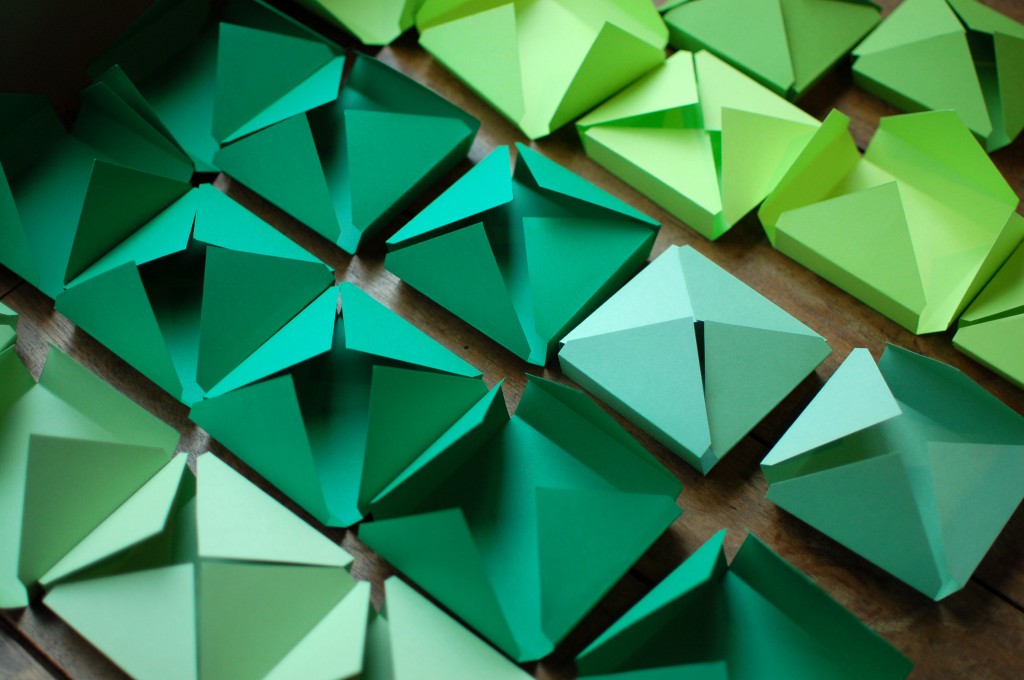 4. Fill with treats! I used two cookies per box (see recipe below). And you can paint your nails to match, if you'd like. Hehe.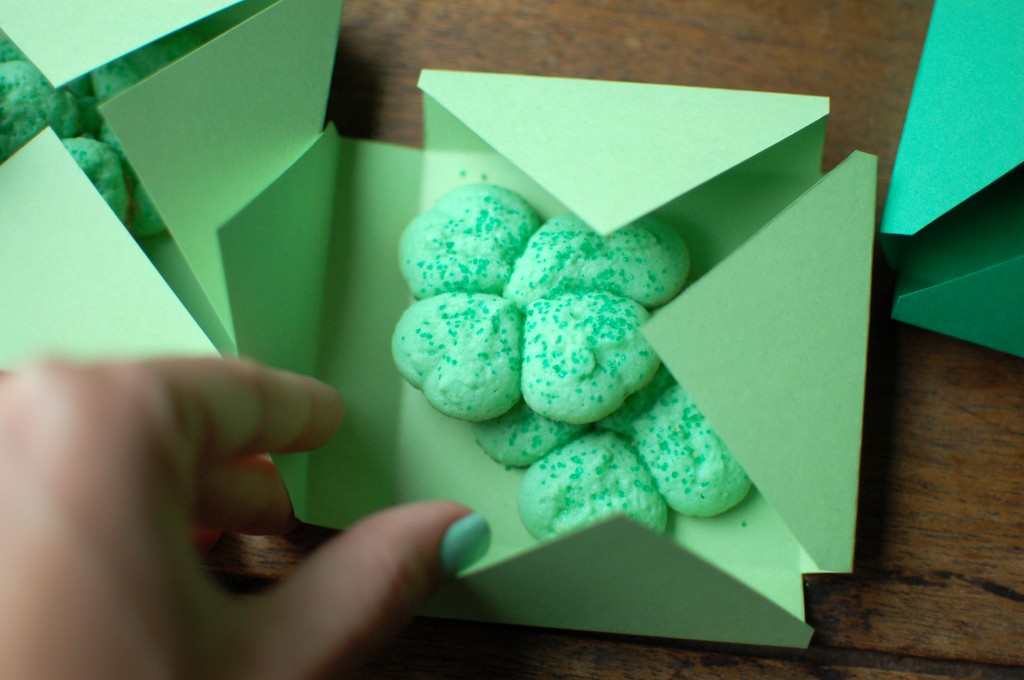 5. Seal the boxes with a little piece of tape, or use a cute sticker and call it done.
6. To attach a shamrock, bow, flower etc. to the boxes, use a dab of hot glue.
To make shamrock toppers:
1. Cut four hearts per box using heart punch (approximately 1 inch).
2. To make them three-dimensional, fold the hearts in half (from point to point).
3. Pair up half the hearts and glue them together with Elmer's by slightly overlapping the tips. They'll look like bow-ties. Remember to only do half the hearts — don't get carried away!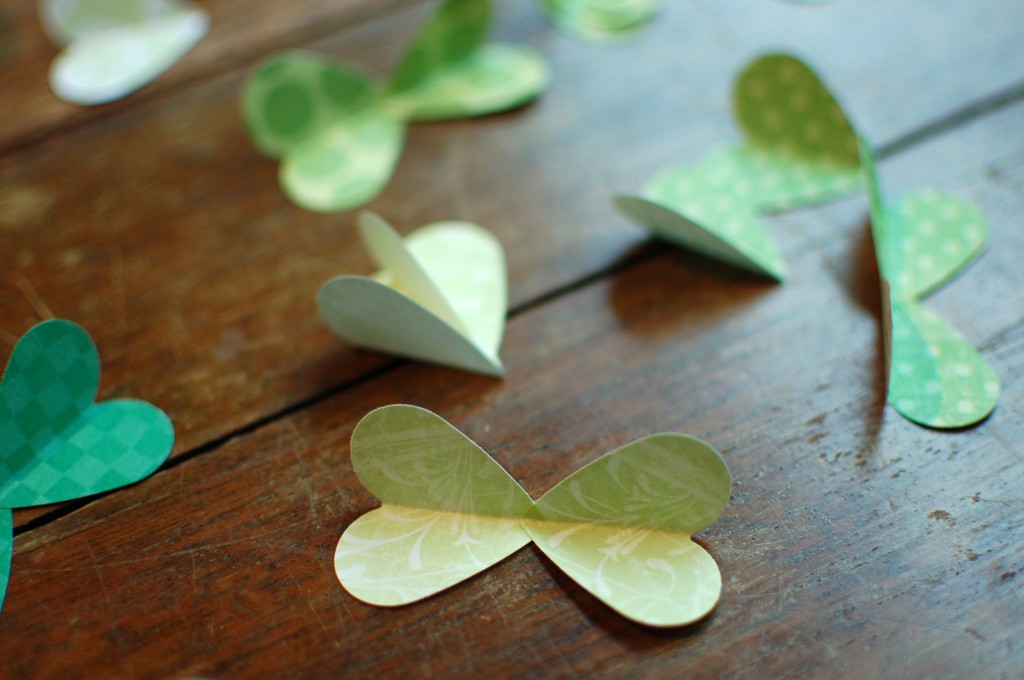 4. After the bow-ties are dried, glue two hearts more on top of the first two, forming a sort of +. These two hearts don't need to overlap each other.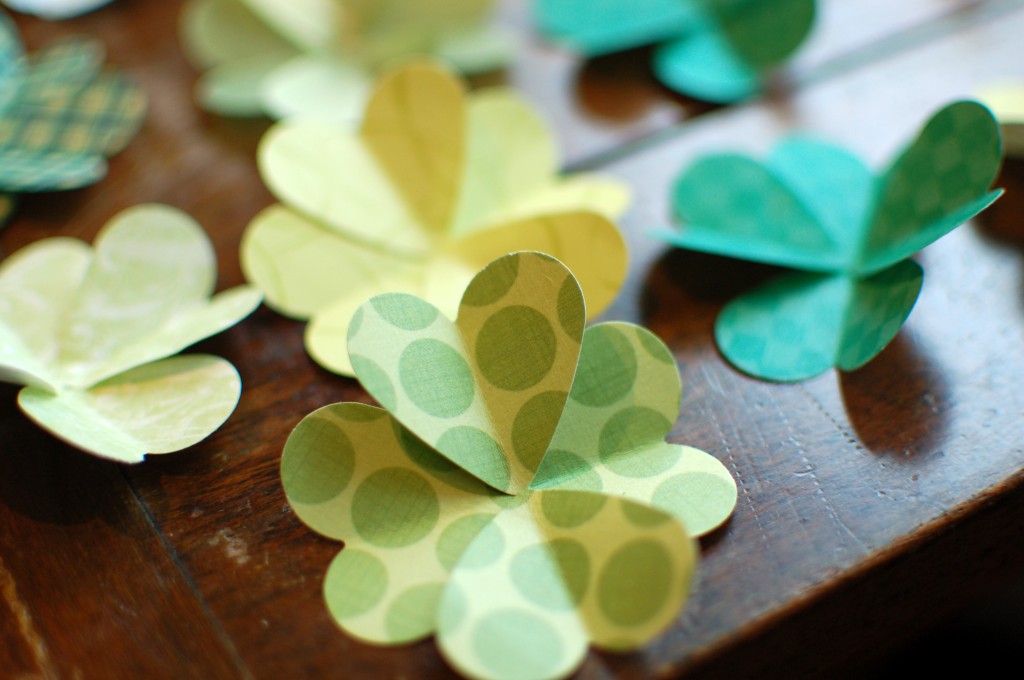 To make my favorite spritz cookies (approximately 4 dozen):
Supplies:
1 cup butter, softened
1 1/4 cups confectioner's sugar
1 egg
1 tsp vanilla extract
1/2 tsp almond extract
2 1/2 cups all purpose flour
1/2 tsp salt
Food coloring (optional)
Sprinkles (optional)
1. Preheat oven to 375.
2. In a large mixing bowl, cream butter and sugar until smooth.
3. Beat in egg and extracts.
4. Combine the flour and salt; gradually add to the creamed mixture.
5. Tint mixture with food coloring, if desired.
6. Using a cookie press fitted with the disk of your choice, press dough 2 inches apart onto ungreased baking sheets.
7. Top with sprinkles, if desired.
8. Bake for 6-8 minutes or until set (do not brown).
9. Transfer to wire racks to cool.
Warning: These cookies are very buttery and will start to soak through the box eventually. I filled my boxes several hours before the party and they only soaked through a bit of the bottom, but the next day I noticed spots on the box tops, too. If you want to fill your boxes farther in advance, I'd recommend using candy or a drier cookie!