I have to say that I love all things pumpkin, a penchant that I am unfortunately not allowed to indulge for the first nine months of every year. Now that it's fall — well, as close to fall as it gets in these parts — I can finally break out the gallon of pumpkin purée from the freezer that is the last mortal remains of last year's Halloween decorations. (There's this great Mexican grocery store just down the street that sells, among other things, amazing carne asada and super cheap, huge pumpkins, so we buy them by the armful every fall.)
Jennifer and I have no shortage of delicious pumpkin recipes in our repertoire — pumpkin bread, pumpkin cheesecake bars, and of course pumpkin pie — but I love experimenting with new recipes, and this pumpkin bread pudding recipe from Smitten Kitchen caught my eye. It so happens that bread pudding and I have some history. After college I was living at the Catholic Worker house in South Bend, IN, where our cooking supplies were somewhat limited and we served dinner every night to a large contingent of homeless guests. We often ate some variation on bean soup and rarely had any dessert. We did, however, receive donations of day-old bread from a local bakery, and we usually had dried fruit and powdered milk on hand from our local foodbank. The stale bread worked perfectly for bread pudding, so I took to whipping up less-than-gourmet batches on a regular basis.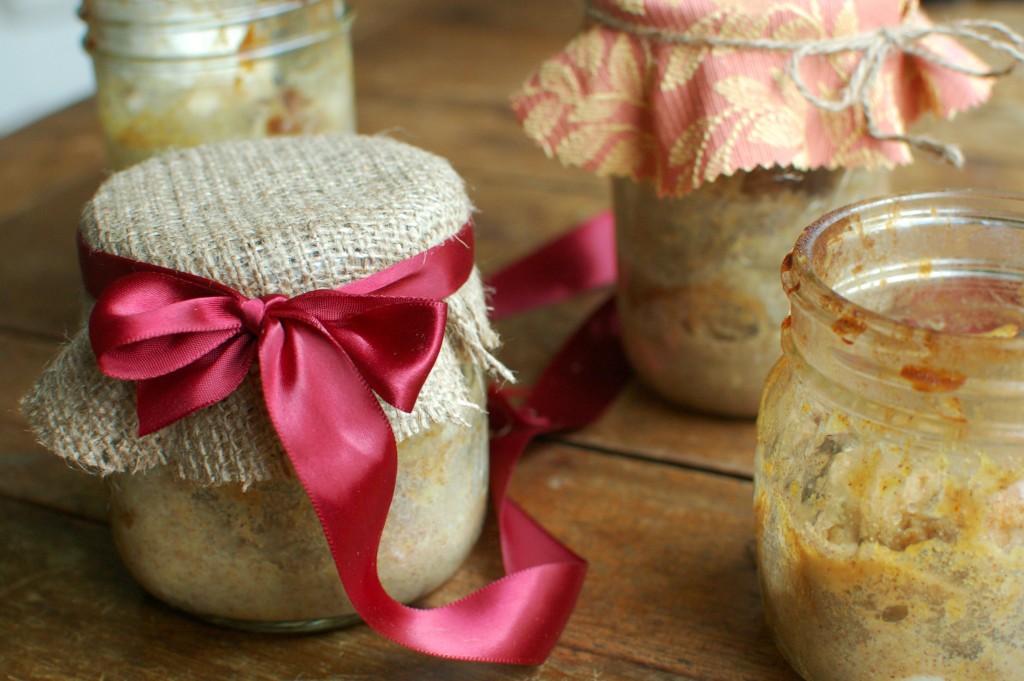 While those improvised bread puddings were certainly tasty, they pale in comparison to this delicious dessert. Pumpkin lends itself so naturally to bread pudding that I can't believe I hadn't thought it up myself. You get that unmistakeable pumpkin pie taste (who doesn't love pumpkin pie?) combined with the French-toast-like deliciousness of bread pudding. All that from a bunch of everyday ingredients with plenty of room for adaptation (add pecans, substitute raisin bread, top with brown sugar, serve with ice cream, etc.). Even Jennifer, who doesn't typically like bread pudding, enjoyed this recipe. At her suggestion, I divvied up the bread pudding into glass jars to make individual servings that she could decorate with autumnal colors and fabrics — perfect for laying out as part of a dessert spread or transporting to a fall party.