There's this hilarious Friends episode where Rachel is making Thanksgiving dessert and mistakenly combines recipes for trifle and shepherd's pie, ending up with beef sauteed with peas and carrots between layers of ladyfingers and custard. Everyone else is revolted but pretends to enjoy it to keep Rachel from realizing she had ruined the dessert. Hilarity ensues, of course, when their deception fails, but the funniest part is Joey declaring, "I like it." "Are you kidding?" asks Ross. Joey replies, "What's not to like? Custard? Good. Jam? Good. Beef? Goooood."
That's kinda how I feel about this recipe Jennifer found on Epicurious: if you take a bunch of tasty things and throw them together, you must get something tasty, right? And what if you put them all in a pumpkin and baked it for a couple hours?
Pumpkin? Good. Garlic? Good. Cheese? Good. Bacon? Gooooood.
This is my kind of recipe. It is exactly the sort of crazy idea I dream up on a regular basis that makes Jennifer roll her eyes. And while not all my crazy ideas pan out, this recipe is definitely a great idea. It really is as simple as combining a bunch of delicious ingredients into something awesome. Think of it as a savory bread pudding baked inside a pumpkin. And honestly, with that list of ingredients how could you go wrong?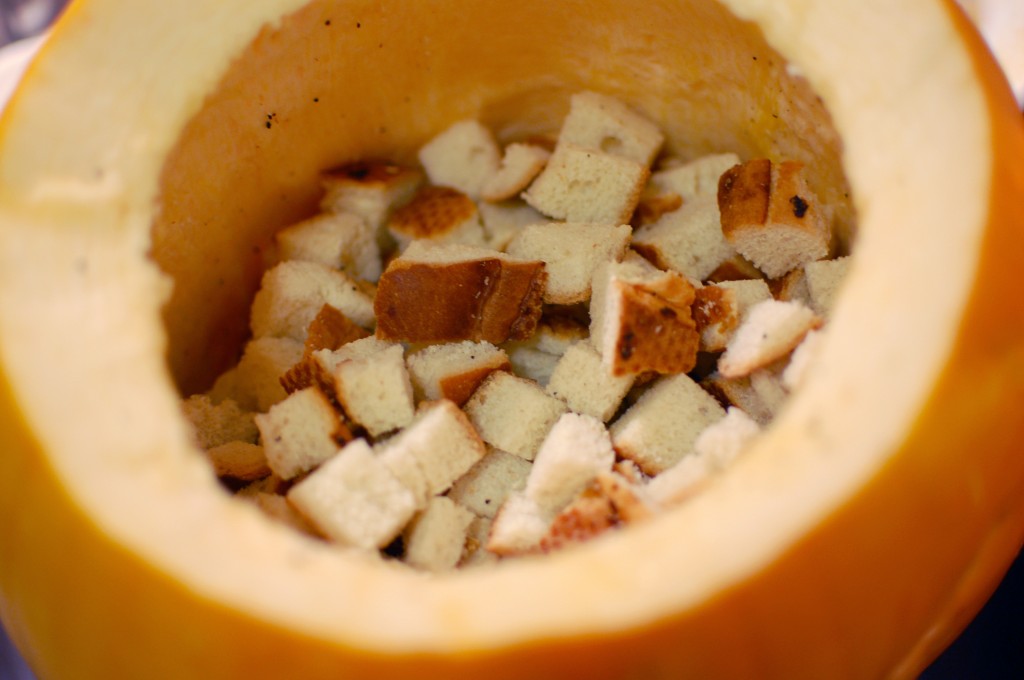 Many reviewers on Epicurious extol the recipe's flexibility, which is perfectly believable. It's super delicious as it is, but I'm sure any number of substitutions/additions would be equally good. We used Walmart's bakery "everything" bread, which I highly recommend for this recipe and in general, and Gruyère, parmesan and cheddar for the cheeses. We also tripled the recipe to make it party-size and used a 12 pound pumpkin in a cast iron skillet. When serving, be sure to scoop out some of the pumpkin flesh along with the filling goodness.
At our fall party this was definitely a big hit. Not only is it delicious, but it is memorable and fun to pull your food out of a big pumpkin right in the middle of the appetizer spread!