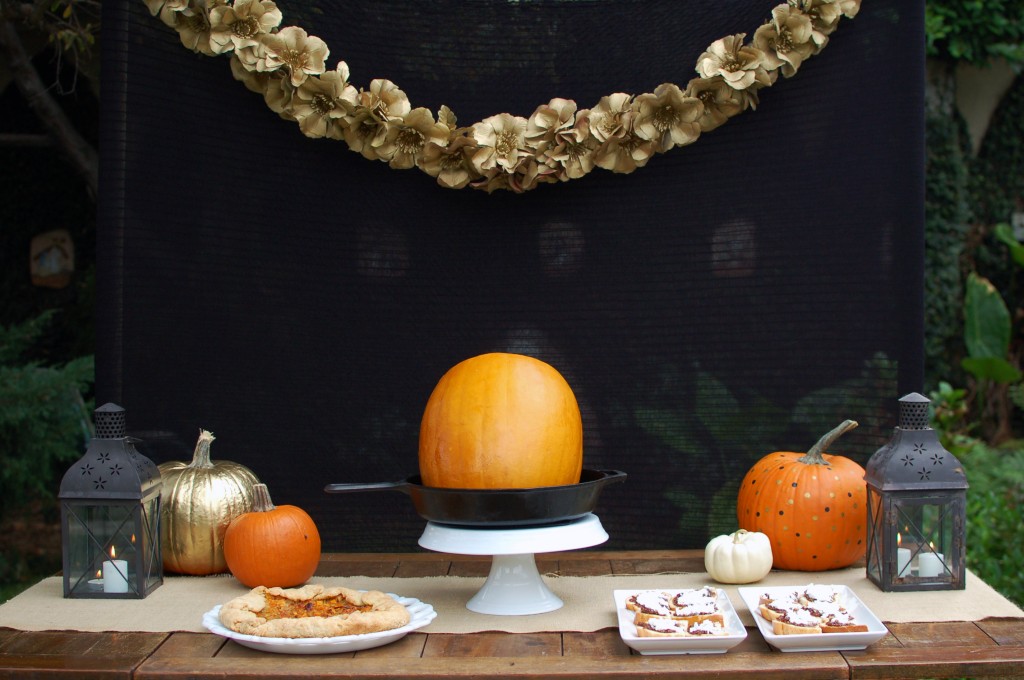 We hosted an Autumn Appetizer Party a few weeks ago, and it was a great little taste of fall! The weather, decor and food all cooperated, and we had a great apple-dipping, pumpkin-painting, appetizer-eating afternoon!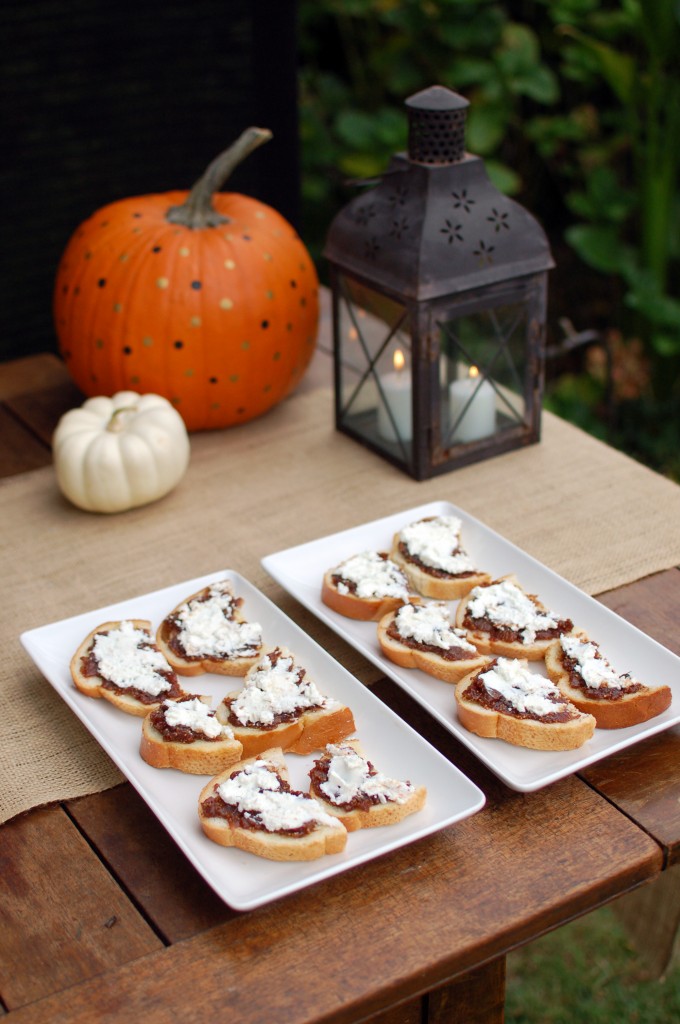 The forecast called for 85 and sunny (boohoo, right?), and I was worried that I would once again have to trade hot drinks for iced (like a December wedding shower I threw). The morning of the party was actually a little drizzly, though, and the clouds stuck around after the rain stopped for a perfect gray 70-something party day! That's as autumnal as it gets around here, but the clouds were a little distraction from the blooming roses and full swimming pool!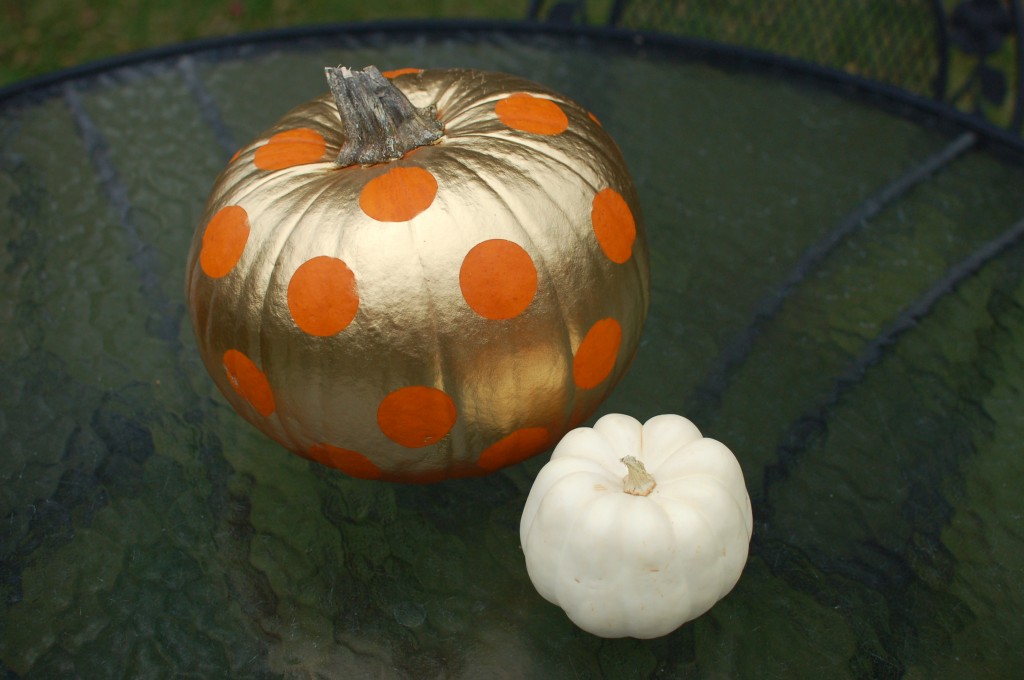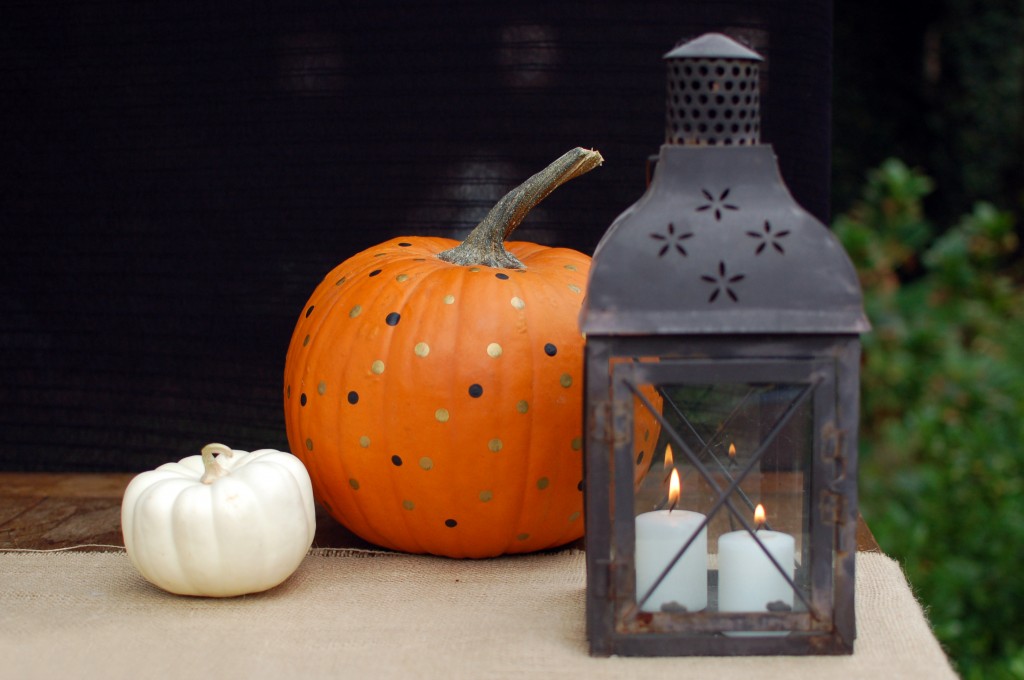 I chose black, gold and orange as our party colors since it was close to Halloween, though not actually Halloween-themed. I decorated with all my polka-dotted pumpkins, burlap and a black and gold backdrop. To make the backdrop, Greg pounded tree stakes into the ground, which we then wrapped with fabric, pulled taut and stapled. (The fabric is a from the Michael Levine warehouse in downtown LA, where you can get fabric for $2 a pound!)
I'm not a very brave hostess and with so many variables when hosting a party, I usually try to stick with recipes I know and love. Botching a dessert on the morning of a party is *not* my idea of a good time! Greg and I don't really have an appetizer recipe arsenal, though, and we certainly don't have an autumnal appetizer recipe arsenal, so we spent a lot of time on epicurious.com and took a few risks.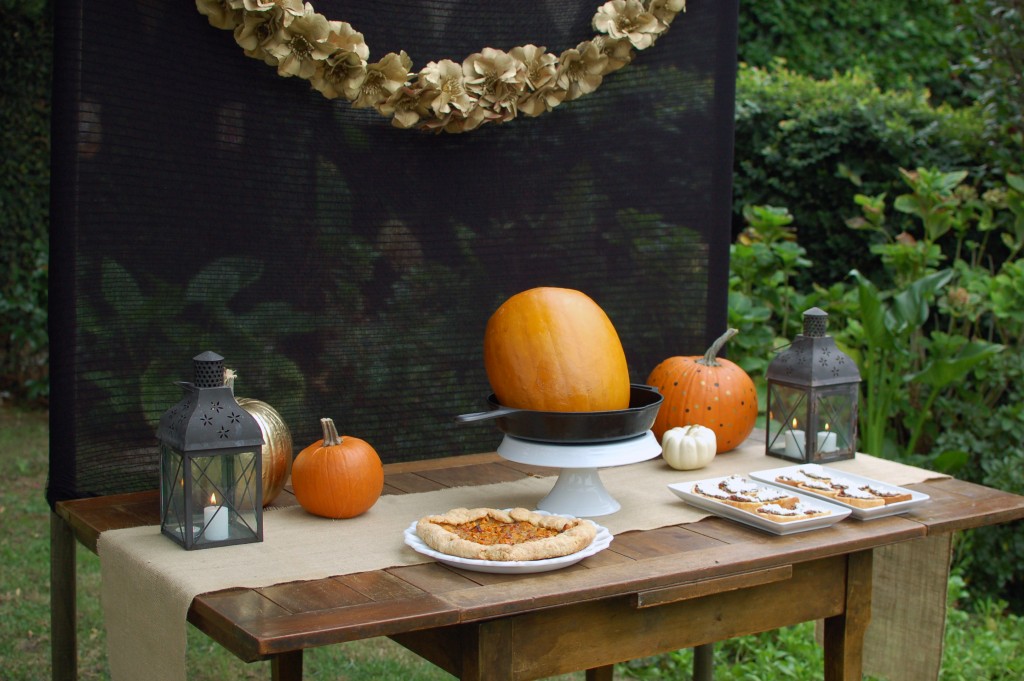 We served:
Spiked Apple Cider
Fig and Goat Cheese Crostini
Butternut Squash and Caramelized Onion Galette
Curried Pumpkin Seeds
Pumpkin Stuffed with Everything Good
Caramel Apple Cheesecake Tart
Pumpkin Cheesecake Bars
Caramel Apples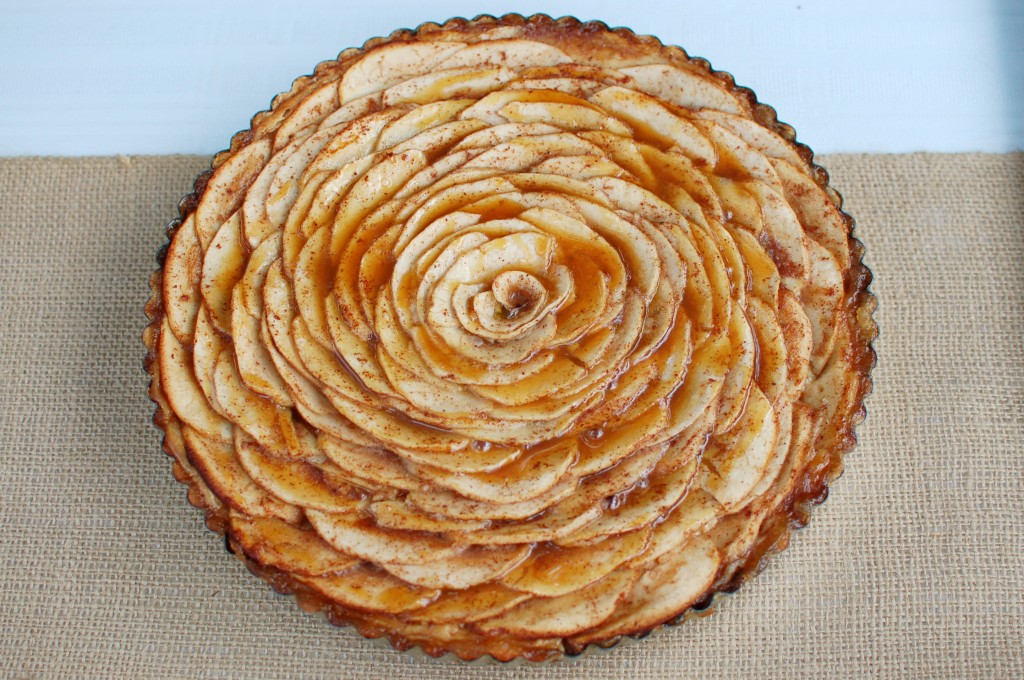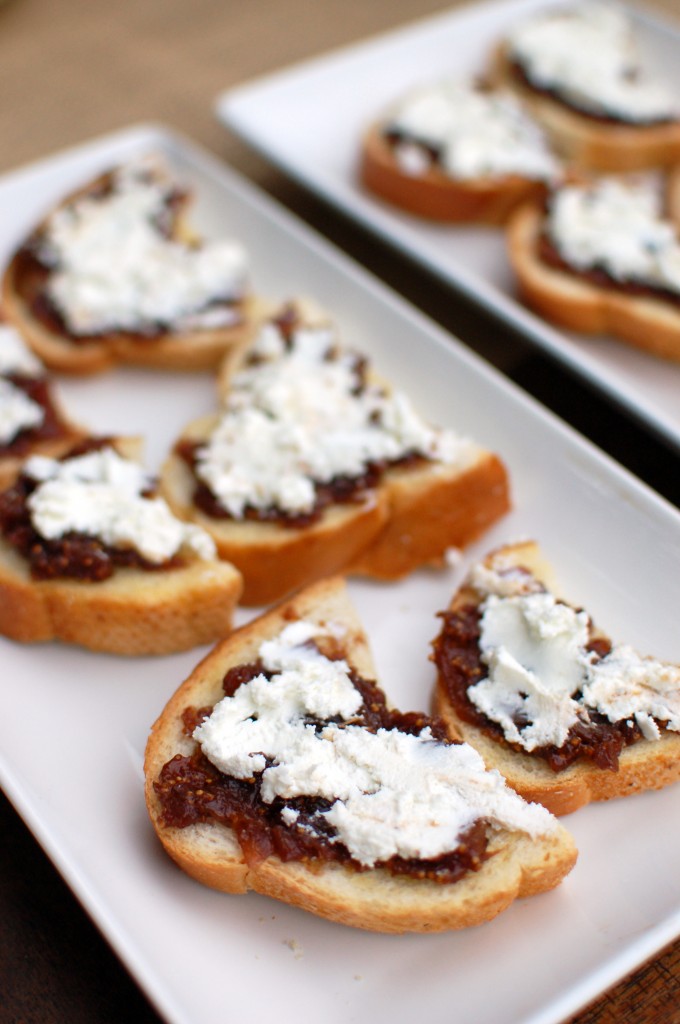 The galette and stuffed pumpkin were my surprise favorites, though I also loved the desserts as I suspected I would!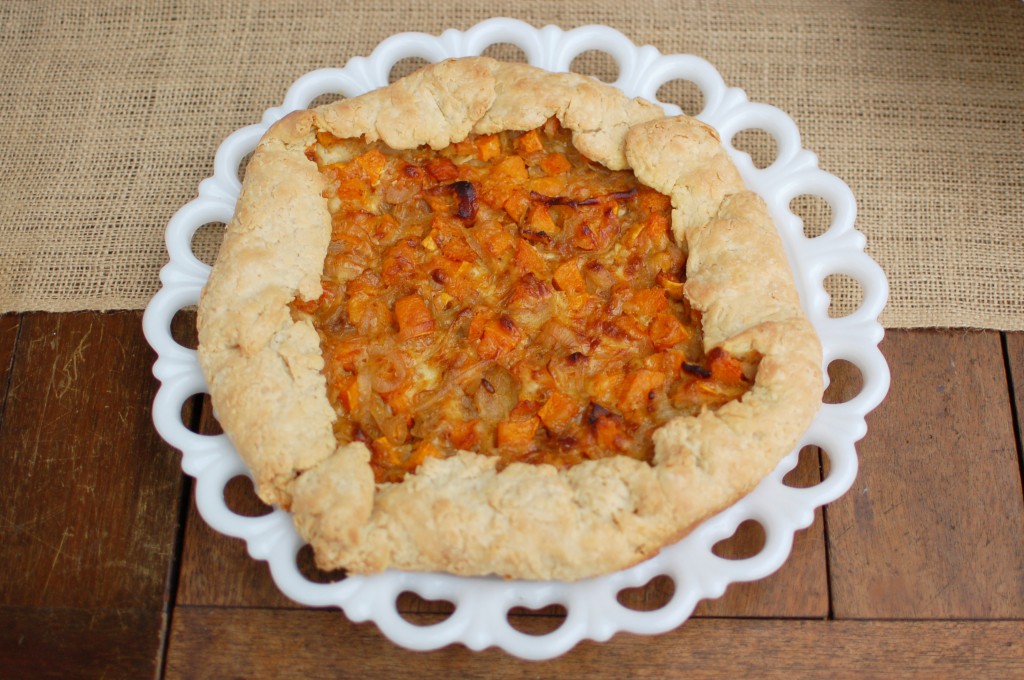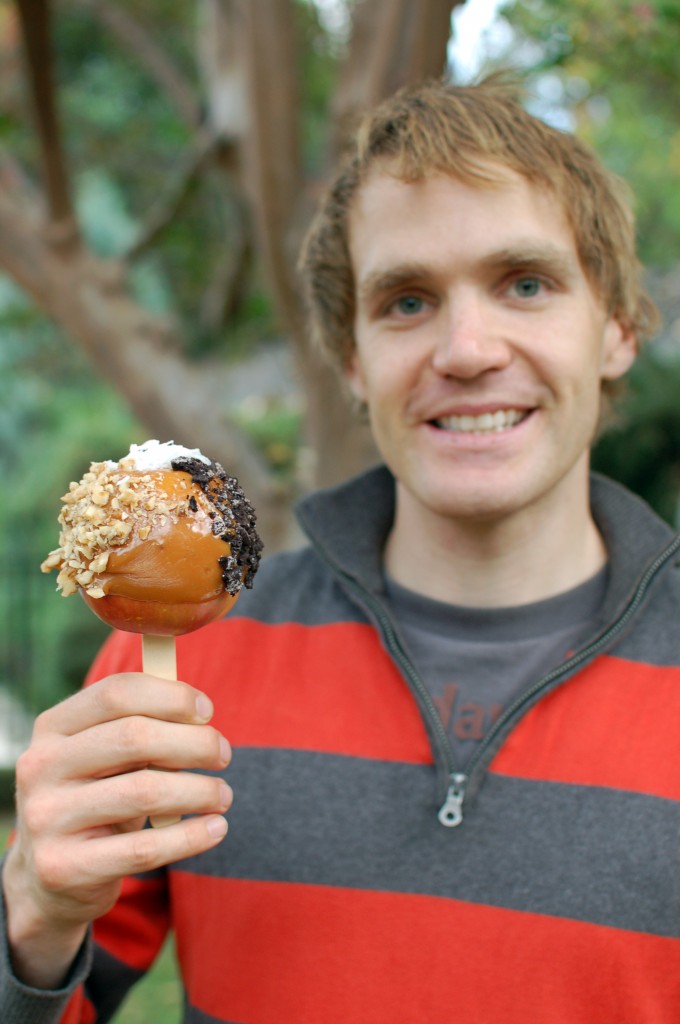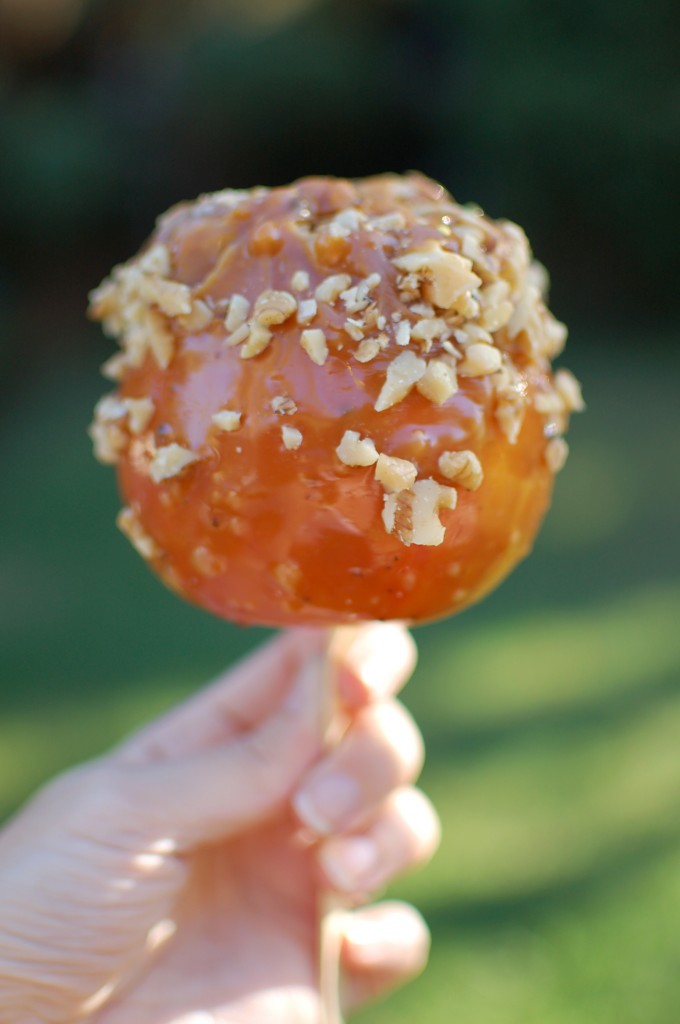 We used a fondue pot to keep caramel warm, and set out a few varieties of apples and toppings. Greg dipped his apple in Oreos, coconut and nuts, but I went with just the traditional chopped nuts.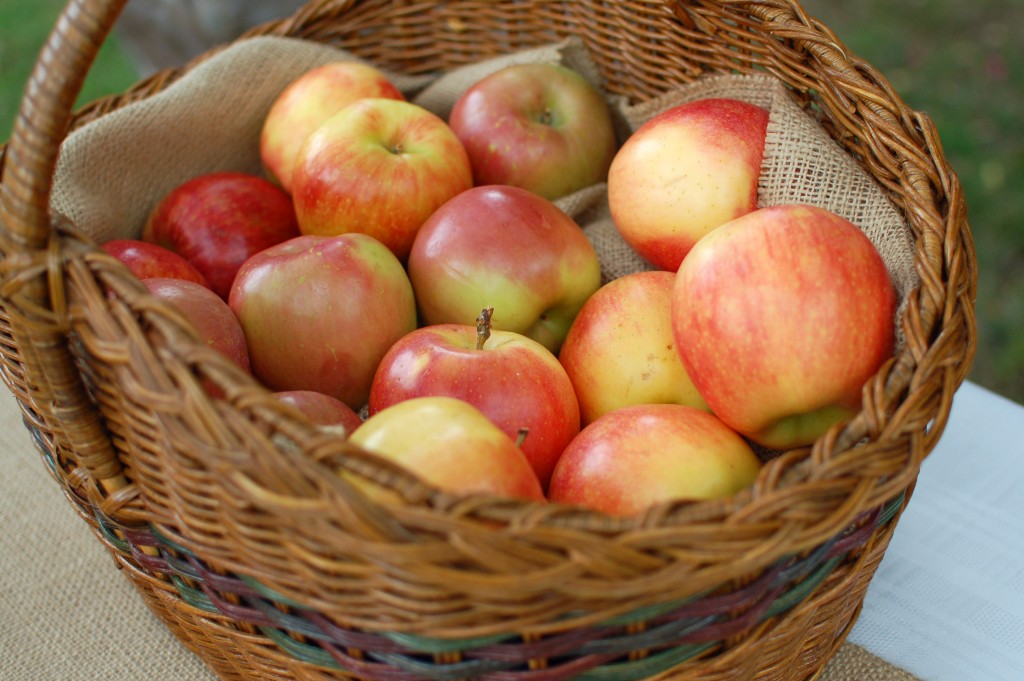 Remember how I couldn't stop buying pumpkins? I thought they'd make fun party favors, so I set up a pumpkin painting table with white pumpkins and black and gold paint (and a plastic tablecloth!). Guests could take a plain pumpkin home or fancy it up a bit first! A pumpkin painting table would be great for a kids party, too; it's much simpler and less time-consuming than carving.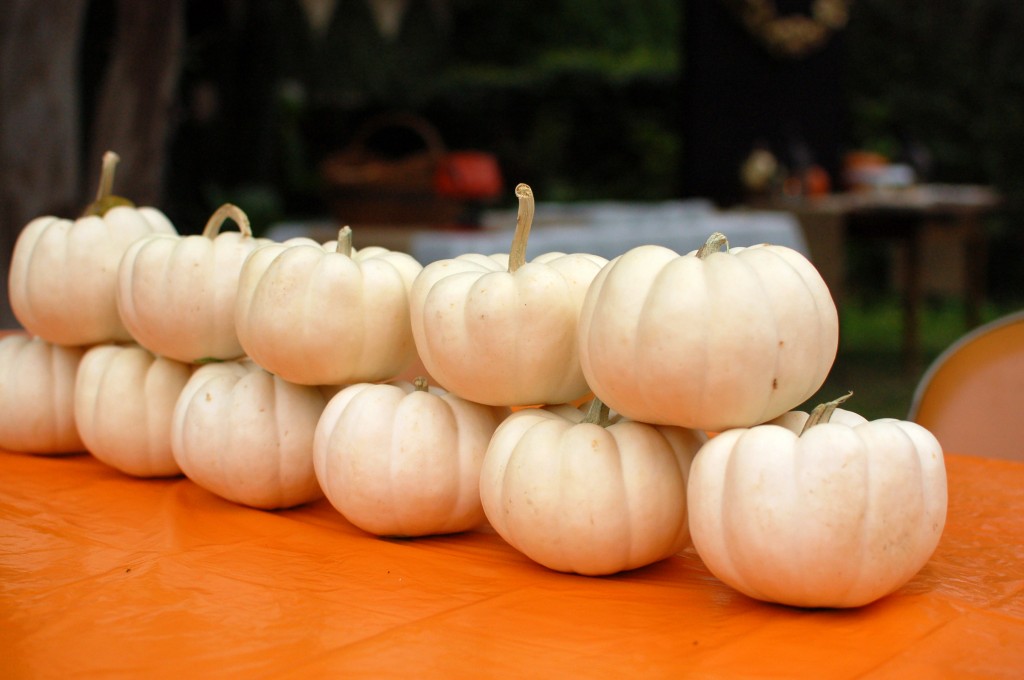 I didn't actually get around to painting at the party, but Greg and his endless zeal came up with this crazy guy!
I'm happy to report that we had great success with all the new recipes we tried! I've already made the apple tart a second time, and I wish I could have the squash galette for dinner every night. Everything was wonderful, including all the breads and dips brought by friends.
I hope you've been enjoying equally delicious foods for the last few days. Happy Thanksgiving weekend!