Our goddaughter's second birthday was a Sunday-morning donuts-and-coffee celebration. The kids were adorable with their donuts, sugar rush and all!
For our gift, to compliment the cute apron set we found, I wanted to add some play pastries in keeping with the party theme. I wasn't thrilled with the store-bought play food options, so I looked (rather skeptically) for a DIY option. I was sure that I could make my own, but I didn't really want to do much sewing. I couldn't have been happier to find Inner Child Fun's cute no-sew option.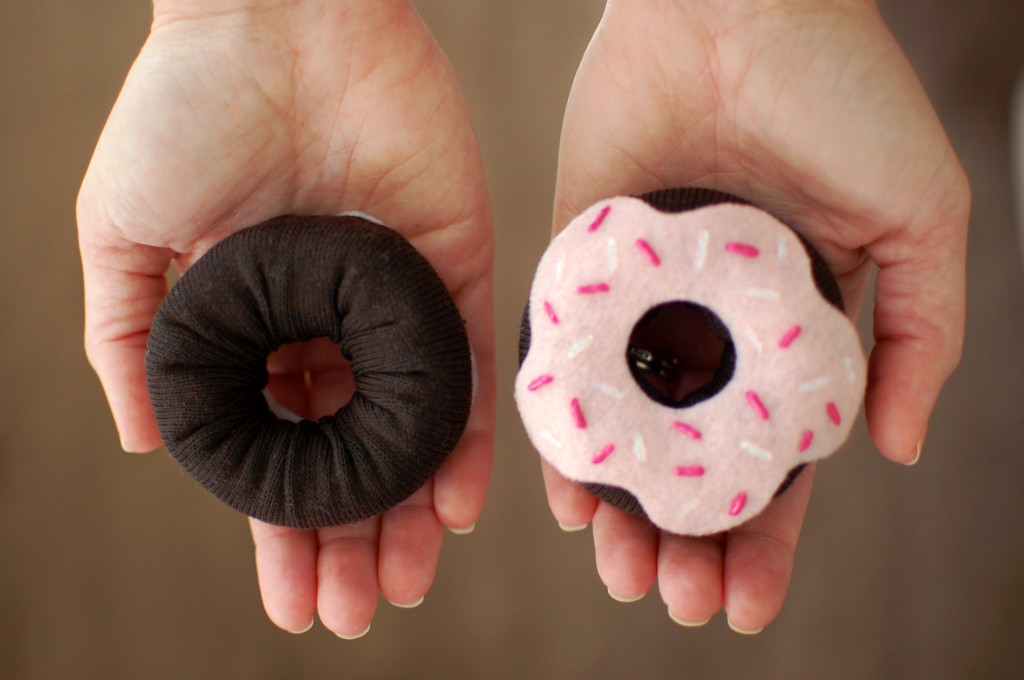 These play donuts are easy to make — cut the toe off a brown sock, roll it up, attach freehanded-felt-icing with hot glue, and use fabric paint to paint on the sprinkles. I can't believe I didn't think of using socks myself, as I was no stranger to the sock bun phenomenon a few years back! I also have to admit that I didn't imagine puffy paint in my post-Girl Scouts crafting repertoire (and I can't believe I had to go buy some, after years of owning every color!), but it does make quite charming and realistic sprinkles.
I wish I'd bought another pair of socks, because I think three would be the perfect number. I'd love to make a set and tie them together with a pink bow!
I had one other project for the birthday party — donut pops! They're both easier and less expensive than cake pops, but still SO good. I wasn't sure that our little mom and pop donut shops would even sell donut holes (that seems like a Dunkin Donuts moneymaking-scheme), but they all did!
The holes were $1.25 per dozen, and assembly was as easy as sticking them on lollipop sticks and sticking those into floral foam. I didn't realize that the different varieties of donut holes would range so much in size (at least at our donut shop), so next time I might group them by type for a more uniform look. Regardless, they were the perfect size for little (and big!) kids to snack on between enjoying full-size varieties with sprinkles and frosting.
Yum. What a fun party! It definitely left me wishing for donuts with my Monday morning cup of tea!