Deb from Smitten Kitchen says people think she's crazy for re-creating grocery store snacks and until yesterday, I might have agreed with them. Why make your own Wheat Thins when you can buy magically delicious ones for $2 a box?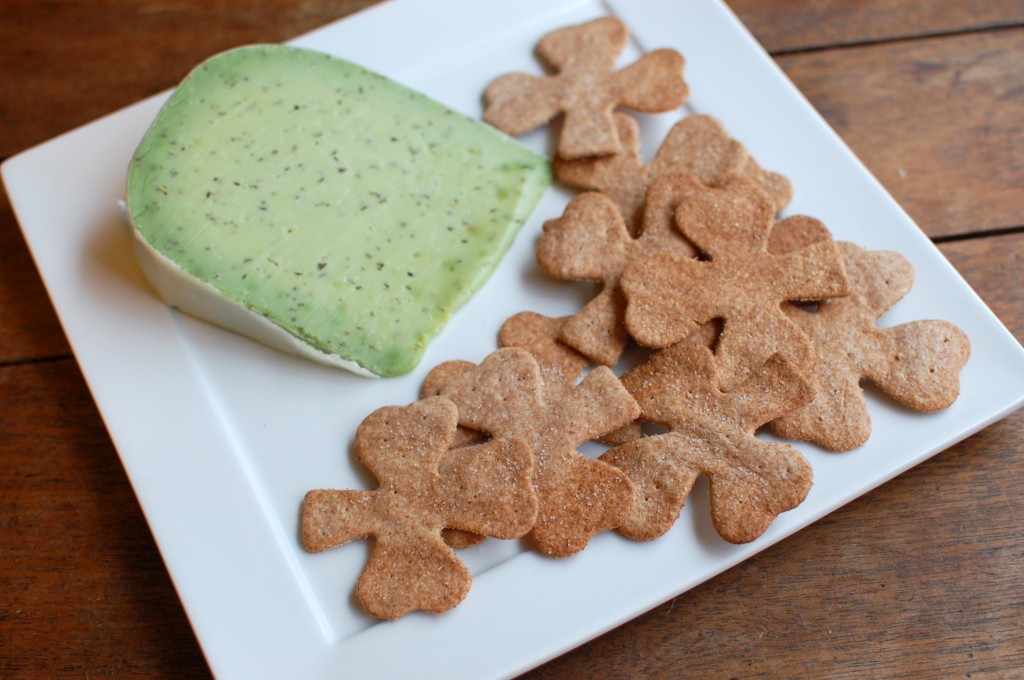 Two reasons: First, it's easy (with a food processor, anyway). Second, you can make them however you want! This may sound obvious, but it never occurred to me to want Wheat Thins in a form other than how they're sold. Now, in addition to seasoning your crackers however you like and working around whatever food allergies you need to, you can cut them into shapes. SO fun.
As I mentioned, I used Smitten Kitchen's Wheat Thins recipe. I rolled my dough out directly onto parchment paper (on my cookie sheet), cut the shamrocks out, removed the excess dough and baked them in position (no flouring, sticking, moving crackers from surface to surface etc). Using cookie cutters means a lot of re-rolling dough scraps and it slows the recipe down quite a bit, compared to making squares with a pizza cutter (the traditional method), but it was thrilling to see my very own crazy-shaped knock-off Wheat Thins come out of the oven. And now I officially have a St. Patrick's Day recipe that doesn't involve Baileys or Guinness!
I served these shamrock crackers with some awesome green gouda, but green toppings abound — guacamole, pesto, salsa verde, spinach dip, green hummus and so on.
Have a happy St. Patrick's Day!