Today is baby James's birth day! And since it's a birthday, let's have cake! Even though I intended to have all baby shower posts completed before James's arrival (ha!), I'm celebrating his birth by sharing the details from the petal cake I made for his nautical shower (and ooh-ing/ah-ing over photo texts!).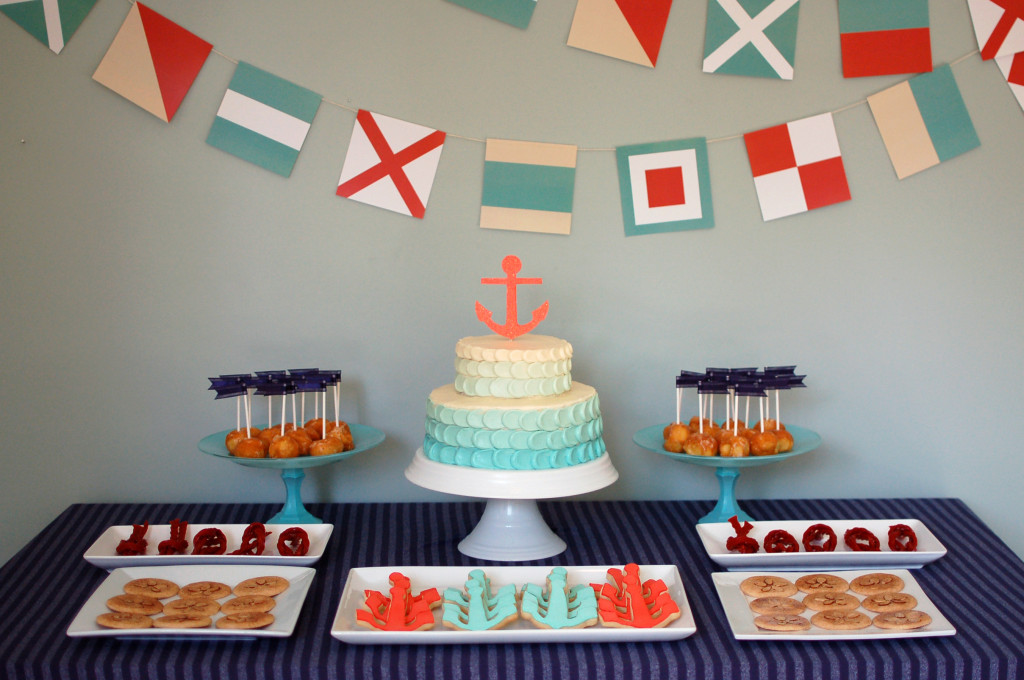 The basic idea behind a petal cake is this: pipe a large dot on the cake, and then press a spatula or spoon into the dot and drag it to the right. There are many, many tutorials, if you'd like to see more photos!
Here's where I decided to stray from other tutorials:
If you're using one color of frosting, the easiest and cleanest way to make a petal cake is to make a vertical line of dots down your whole cake, smear all of them, then make another line of dots. This is also recommended for ombre cakes, except you have to have 6 (or more) piping bags all ready to go and you have to switch colors for every. single. dot. I decided that it didn't matter to me if every row of petals was vertically aligned, so I did an entire horizontal row in one color before switching to a new bag of frosting. I don't think it took away from the cake's appearance in the least, and it was SO much faster!
So, to frost the (assembled cake), first coat the whole thing in a thin layer of frosting — the crumb coat. Then divide the remaining frosting into several bowls (six in my case) and color it. Start with a tiny bit of food coloring, and add a bit more for each bowl. If you want the ombre effect to look natural, don't add too much food coloring or the transition won't be smooth.
Fit a pastry bag with the #12 tip, fill with your darkest color, pick a spot on the bottom of the cake, and pipe a big dot. Drag the dot to the right with your spatula, and repeat. You do have to pay attention to dot size so that they'll fit the cake vertically, since this method doesn't entail piping a whole column of dots at once (though I'd definitely recommend that if just using one color!). You can use toothpicks as guides to divide the height and make sure that your rows are tall enough.
If you'd like to make the coconut cake and cream cheese frosting that I made (and loved), here are the recipes! (I combined the base and frosting from two coconut cake recipes, and upped the ingredient amounts to make enough for this tall cake.)
Cream Cheese Frosting
Notes: Yields enough for crumb coat and multi-colored petal frosting on the 4 layer cake shown. Frosting can be prepared up to 3 days before serving. Before using, bring to room temperature and beat until smooth.
Ingredients:
12 cups powdered sugar
4 8-ounce packages cream cheese, room temperature
2 cups unsalted butter, room temperature
8 teaspoons vanilla extract
Sweetened flaked coconut (save for assembly, see below)
Using electric mixer, beat sugar, cream cheese, butter, and vanilla in large bowl until blended.
————
Coconut Cake
Notes: Yields two 9-inch cake layers and two 6-inch cake layers. Coconut Cake can be prepared up to 1 day ahead. Cover with plastic wrap and refrigerate. Let stand at room temperature 2 hours before serving.
Ingredients:
4 cups + 2 tablespoons all purpose flour
1 1/2 teaspoons baking powder
3/4 teaspoon baking soda
3/4 teaspoon salt
2 1/2 cups + 2 tablespoons sugar
1 1/2 cups (3 sticks) unsalted butter, room temperature
1 1/2 cups canned sweetened cream of coconut (such as Coco López)
6 large eggs, separated
1 1/2 teaspoons vanilla extract
1 1/2 cups buttermilk
Pinch of salt
1. Preheat oven to 350°F.
2. Butter and flour two 9-inch-diameter cake pans with 2-inch-high sides.
3. Whisk flour, baking powder, baking soda and teaspoon salt in medium bowl to blend.
4. Using electric mixer, beat sugar, butter and sweetened cream of coconut in large bowl until fluffy.
5. Beat in egg yolks and vanilla extract.
6. On low speed, beat in dry ingredients and then buttermilk, each just until blended.
7. Using clean dry beaters, beat egg whites with pinch of salt in another large bowl until stiff but not dry.
8. Fold beaten egg whites into batter.
9. Divide cake batter between prepared pans. Bake cakes until tester inserted into center comes out clean, about 45 minutes.
10. Cool cakes in pans on rack 10 minutes. Run small sharp knife around pan sides to loosen cakes. Turn cakes out onto racks and cool completely.
————
Assemble cake:
1. Using a knife or cake leveler, cut the dome off the cake layers to make them as flat as possible.
2. Place one 9-inch cake layer, cut side up, on cake plate. Spread 1 cup cream cheese frosting over cake layer.
3. Sprinkle 1 cup sweetened shredded coconut over.
4. Top with second 9-inch cake layer, cut side down.
5. Spread cream cheese frosting over the top of the 9-inch cake.
6. Place a 6-inch cake layer, centered and cut side up, on top of the frosting.
7. Spread cream cheese frosting over the small layer.
8. Sprinkle coconut over the 6-inch layer cake.
9. Top with the last layer, cut side down.
10. Frost the whole cake and press coconut into the sides, or go crazy making ombre petals!