Greg and I just returned home from a wonderful visit with my grandmother in Florida. I have several Easter posts coming up, but first I wanted to take a moment to share these apple turnovers!
Grandma is on a fairly regimented health-food diet, and it seems to have been good for her over the last few years. However, she started talking about her love for apple turnovers during our visit, and I couldn't pass up the chance to try to make them for her. (Don't worry, Grandma can have occasional treats.)
Baked goods = love, right?
I'll never forget a few years ago, when we were visiting my grandparents on my grandfather's 80th birthday. I made another new-to-me recipe — rice pudding — because my dad said Grandpa loved it. Grandpa was thrilled, and we put a birthday candle in it and everything. When Grandpa passed away unexpectedly less than two weeks later, I was even more grateful for taking the chance I had to make something special.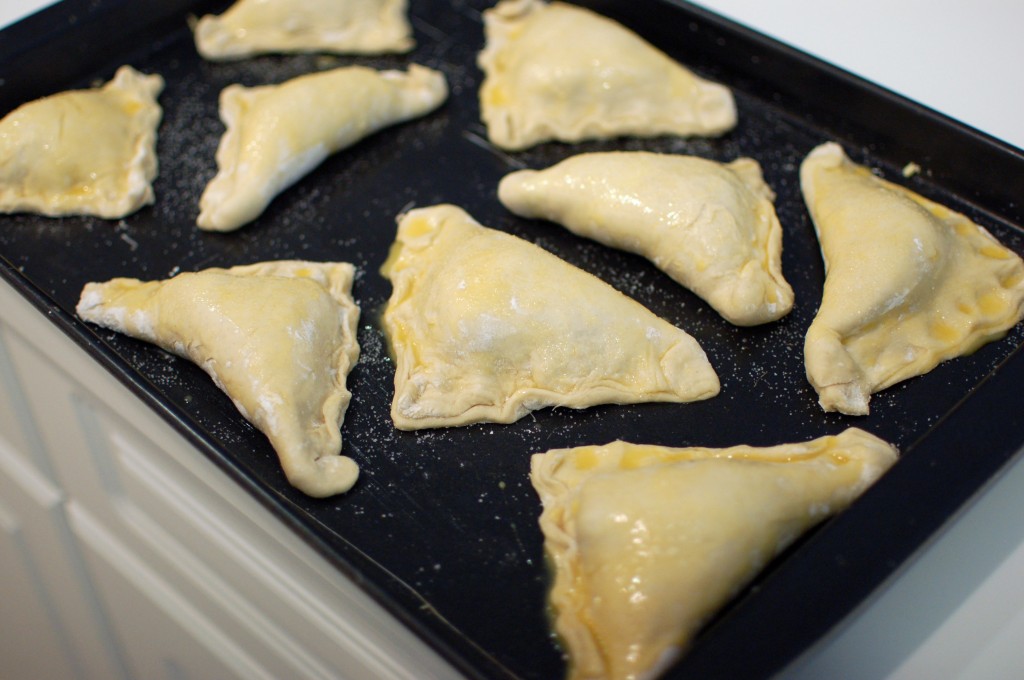 So, back to the turnovers! I served them warm, with ice cream, and Grandma and company loved them. I was pleased with how nicely they came together, despite not having parchment paper, or a brush for the egg, or much time to make them pretty. (We were in a rush to get to the beach!) The filling can be made in advance, or the whole turnovers can be frozen before or after baking (and you know how much I love that)! Since apple isn't my favorite filling, I'm already dreaming up all the interesting things I can fold into pastry dough for dessert at a moment's notice!
I used this basic Epicurious recipe (it calls for store-bought pastry puff) and added a pinch of cinnamon. You'll notice in the comments that others added lots of spice — it's up to you!