After painting our adjoining living room/dining room and entryway two shades of muted blue-green, I went on a hunt for curtains. I wanted to introduce bold patterns and additional colors into the space, while playing up the wall color. I didn't have much luck (apparently plain and boring is what people buy in curtains these days), except for some very lovely, very pricey anthropologie options. I considered buying fabric for homemade curtain panels, but to cover our huge windows, the decorating fabrics I loved came in at $200! Time to get creative.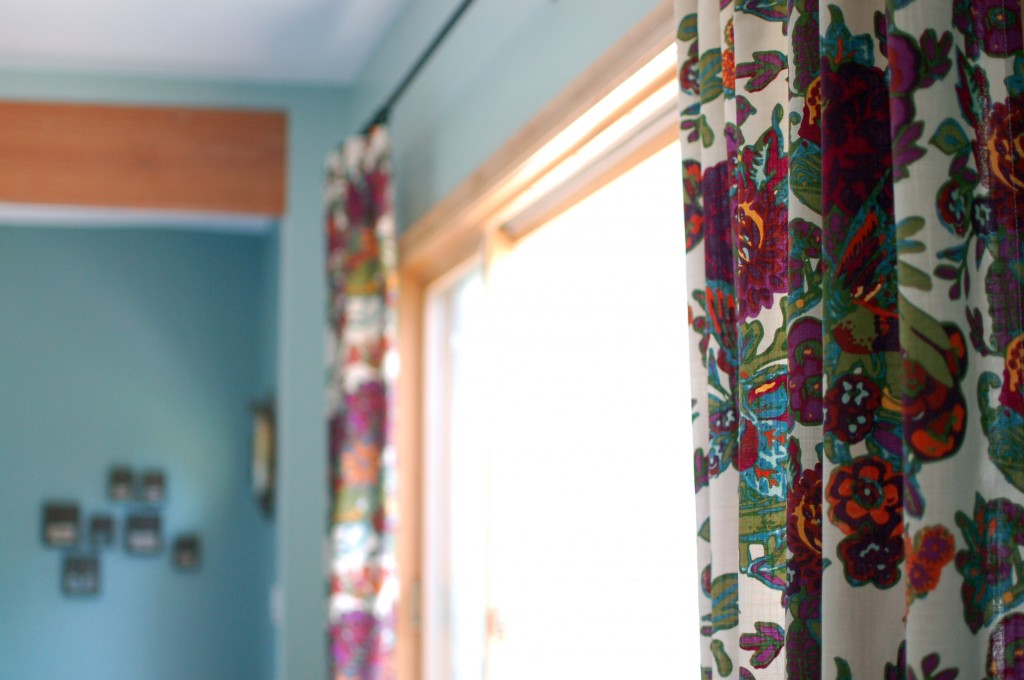 I noticed that Target carried far more interesting fabric shower curtains than the curtains they offered for dressing windows. I chose an inexpensive option (online) and, for $40, ordered two. Unfortunately, they just didn't work. It wasn't that they were made for showers — I'm still all for using them in other rooms — it was that they didn't match the online photos. Instead of light and bright colors, the curtains were dingy. Onward to round two.
While scoping out shower curtains (in person, paint swatches in hand) at World Market, I lost my husband and ended up wandering around the store. As luck would have it, I walked right through the section of table linens and hit the jackpot. Huge pieces of fabric! So many patterns! Why didn't I look here before?! We took home several.
All you need to use tablecloths as curtains is a curtain rod (which you need for any curtains) and two sets of drapery clips. Just space the clips evenly and hang! The tablecloth fabric is plenty thick enough to block light (this was an advantage over the airy shower curtains) and long enough for floor-length, easily. If you're unsure what width to use for curtains, keep in mind that the "recommended" width is 1.5 to 2 times the width of your window. I've found that you can get away with less, but the extra fabric makes the curtains look nicer when drawn — gathered, rather than stretched tight.