As previously stated here, here, here, here, here and here, I love a good cheesecake. Not only is cheese my "love language" (making cheesecake my favorite dessert), the very fact that cheesecake freezes beautifully makes it a welcome addition to nearly every holiday or party I host. Something I can check off months in advance? Yes, please.
I tried and loved a new recipe for this cheesecake. I skipped the strawberry topping and instead spread a thin layer of whipped cream on top (1.5 cups cream with a couple teaspoons of sugar). Not only did this make a smooth, pretty surface for my decoration, but it was delicious. I might add a whipped top to all my cheesecakes from now on! And one last recipe change—I didn't want to buy coconut rum, so I replaced it with 1/8 cup regular rum and 1/8 cup leftover cream of coconut.
I served the coconut cheesecake with both chocolate sauce and berry compote on the side, and while delicious with both, it was great on its own. I probably won't bother with the toppings next time.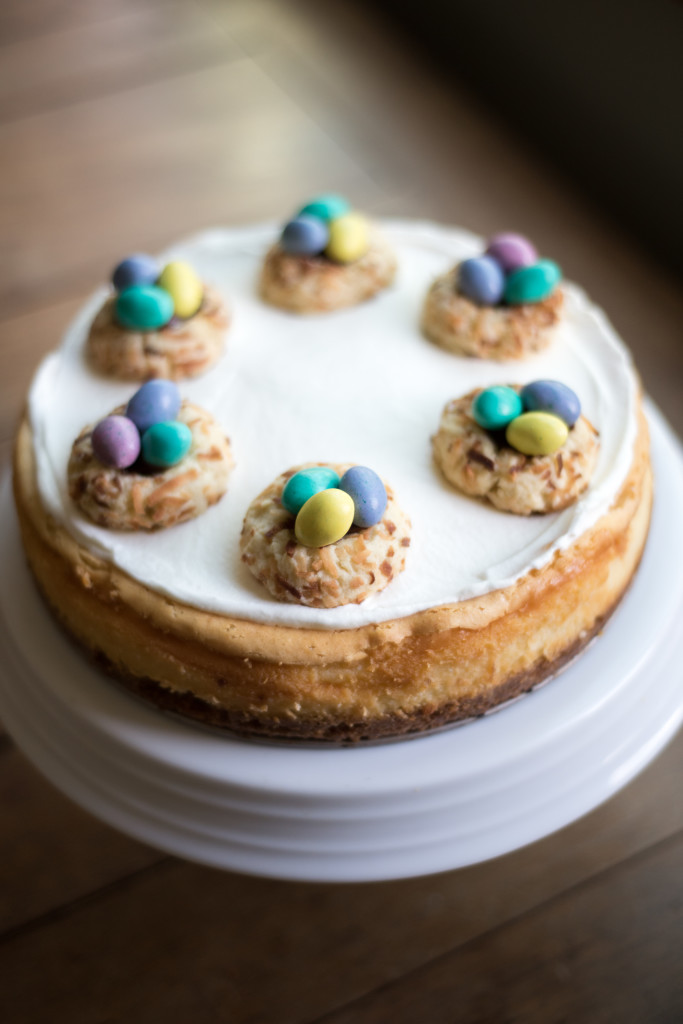 Now for the super cute nests on top. Because they're cookies, they could easily be placed on any type of cake, cupcake or cheesecake, or served solo. The recipe makes plenty, so I had a platter of cookie nests on the side. The solo cookies weren't as good as the cheesecake, but very kid-friendly.
The recipe is from the back of the M&Ms bag, and my only modifications were to use fewer M&Ms (just 3 per nest) and to melt some chocolate chips for the center of the nests to act as glue. I have no idea how the M&Ms would stay put otherwise.
Coconut & M&Ms Bird's Nest Cookies
Yield: 3 dozen cookies
Ingredients:
1 1/3 cup flaked, sweetened coconut
1 cup (2 sticks) unsalted butter, softened
1/2 cup granulated sugar
1 large egg
1/2 teaspoon vanilla extract
2 cups all-purpose flour
3/4 teaspoon salt
1 1/2 cups M&M's Chocolate Eggs
Directions:
1. Preheat oven to 300°F. Spread coconut on non-greased cookie sheet. Toast in oven, stirring occasionally, until it turns light golden, about 25 minutes (Edit: this is crazy too long. Watch carefully, stir often, don't be surprised if it's done before 10.)
2. Remove coconut from cookie sheet and set aside.
3. Increase oven temperature to 350°F. In large bowl, add butter and sugar and whip until light and fluffy; beat in egg and vanilla.
4. In medium bowl, combine flour and salt. Blend into creamed mixture.
5. Form dough into 1-1/4-inch balls. Roll heavily into toasted coconut.
6. Place coconut cookies 2 inches apart on lightly greased cookie sheets. Make indentation with thumb in center of each cookie. Bake 12 to 14 minutes or until golden brown.
7. Remove cookies and cool completely. Fill indentations with M&M's Chocolate Eggs.