We have a box of felt in our attic that comes down exactly one day each year: October 30.
Even though Halloween falls on the same day each year, and even though it's the very last day of the month—with no possibility of sneaking up on us—Greg and I find ourselves in a yearly panic over Halloween costumes. It turns into a late-night, felt-to-the-rescue DIY session on October 30 . . . or sometimes the morning of October 31, if we're being completely honest.
It's partially because we know that dressing up a pet is a ridiculous tradition. It's partially because we don't want to spend money on said ridiculous tradition. Every year, we consider skipping, and every year we cave at the last minute. Because now that it's a tradition, we just can't seem to let it go. (It all began with a dollar store devil costume, bought on a whim, and anyone who has ever met Pixel can certainly understand.)
A few years ago, we threw together this Cat & the Hat group costume. We already had red shirts, so I just printed, cut and taped on Thing 1 and Thing 2 graphics from the interwebs. The cat's hat is a cardboard cylinder (a breadcrumb container, I believe) covered with felt stripes and attached with elastic (another supply that rarely comes out besides October 30). Same story for the bowtie—felt, hot glue and elastic. In hindsight, a simple piece of cardboard under the bill of the hat would have helped it keep its shape.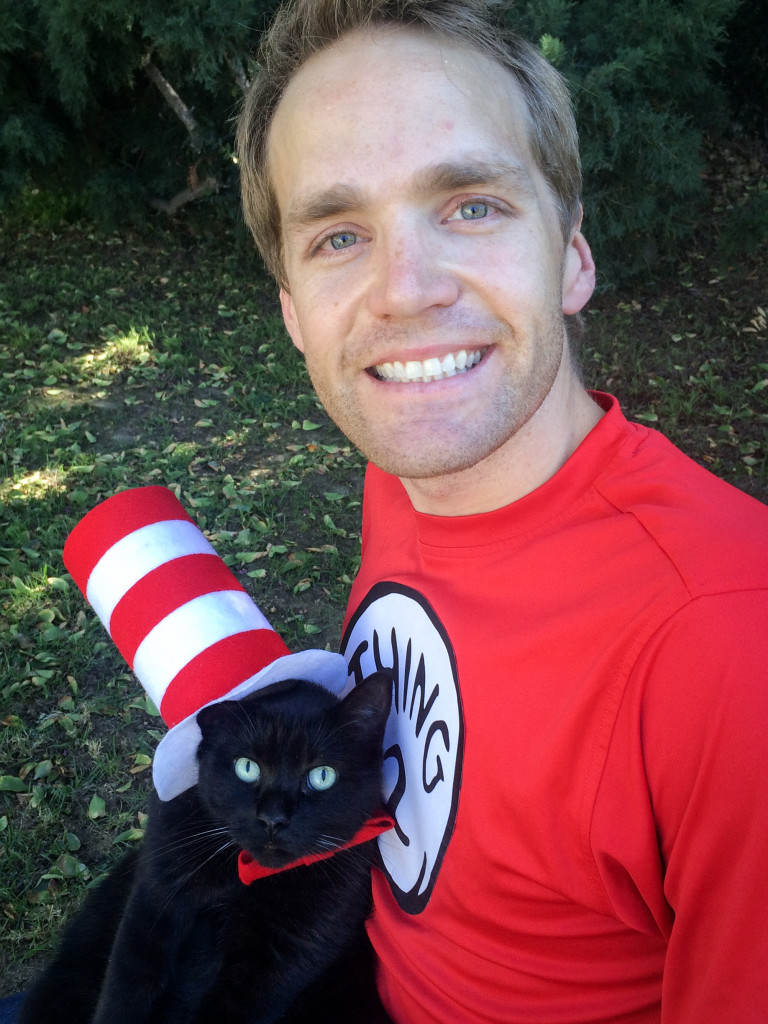 I was so happy with the finished costumes! They were SO easy and so cute! They couldn't withstand a party, but Pixel hasn't been getting many invites lately, anyway.
I have at least two other group/pet Halloween costumes from past years (and one doesn't even involve felt!), so look for those soon!