Greg and I love to travel, and most of our trips as a young (um, strapped for cash) couple have had several things in common:
1. They're relatively short (fewer vacation days and missed school days).
2. The destination is within a day's drive (gas < airfare). 3. We stay at the most affordable place that seems decent and safe (except a recent trip to South Carolina, where we spent one night in a completely unacceptable motel). 4. I do a ton of research before our trips to make sure that we hit all the highlights and recommended attractions/restaurants without breaking the bank.
Despite having those four things in common, our vacations have ranged from Disney World to wine-tasting to camping with wild horses (in the pouring rain). We've also been fortunate enough to visit some of our favorite places twice, recently including Yosemite, San Francisco and Charleston. On our second trip to San Francisco, we were considering a restaurant that I knew we'd eaten at before, yet I had no memory of the food, price, ambiance, etc.
I realized that we needed to save notes from our trips.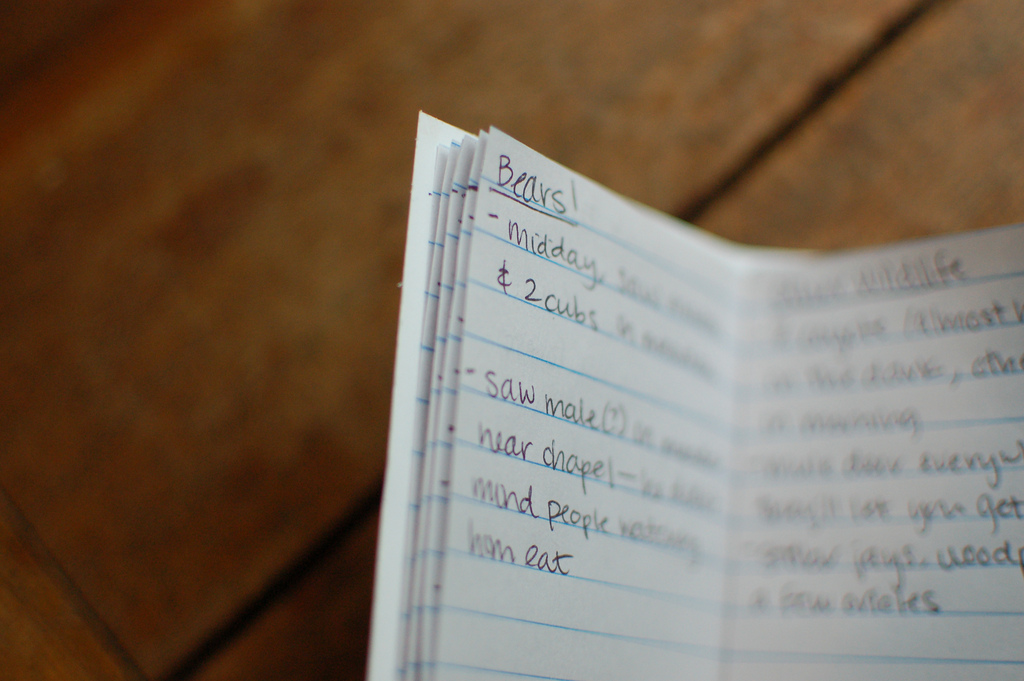 In order to prevent losing research about a destination and, more importantly, things learned along the way, I started making travel journals. The first two were an anniversary gift to Greg, and now we work on them together. You only need paper and a postcard from the destination (you can order nice vintage ones online and make the whole journal before a trip), so they're inexpensive, cute and travel-size.
1. Measure and mark your fold line at half the length of the postcard.
2. Score the printed side of the postcard at the fold mark. Fold.
3. Trim a stack of loose-leaf paper (or blank paper, if you prefer) into 5-10 sheets that are 1/4″ smaller than your postcard in both dimensions.
4. Fold the loose-leaf stack in half. The edges will be uneven — trim them for a more polished look.
5. Insert the folded paper into the folded postcard and, with the postcard facing up, staple the spine twice.
6. Record the details of your trip — restaurant and hotel info; notes on traffic and weather; things you wouldn't do again; and, of course, the absolute highlights of the vacation!