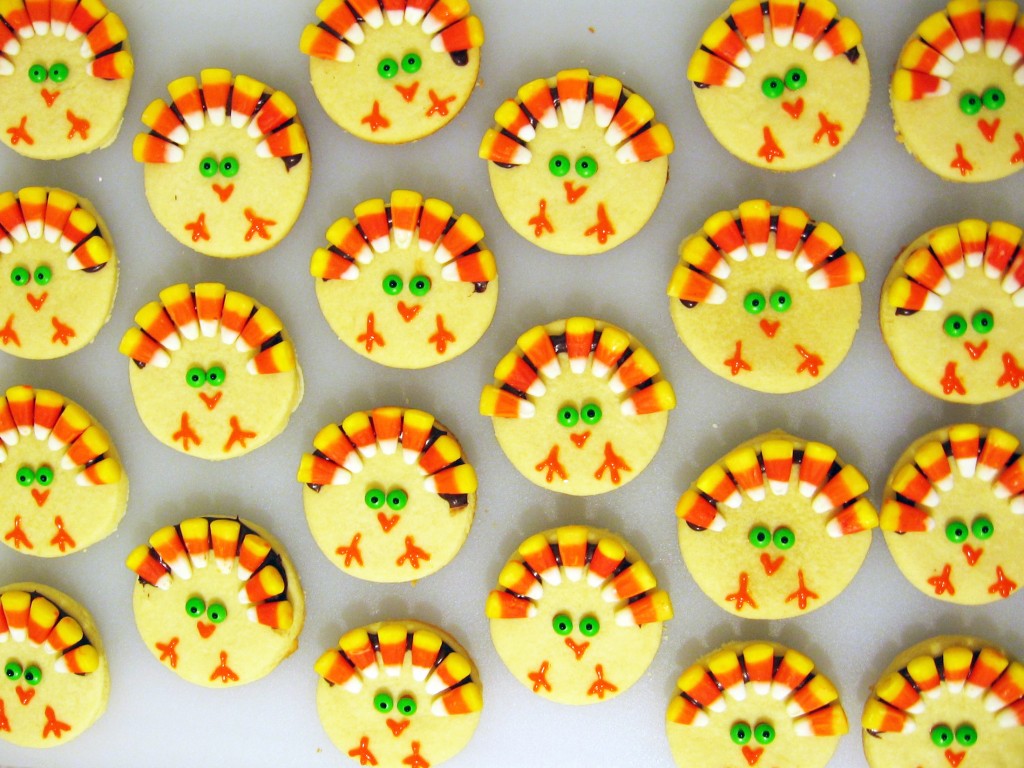 If you still have candy corn left from Halloween, use it to make these adorable turkey cookies! We made this batch in my tiny Atlanta apartment (on top of the microwave, no less! I'm so thankful for our current counter space.) and sent them off to Greg's brother at school. The idea came from Pillsbury, but rather than slice and bake dough, we used a basic sugar cookie recipe. Don't be intimidated by the list of supplies — though these cookies require several types of icing, the decorating is very straightforward. No experience necessary!
Supplies:
Sugar cookies, your own favorite recipe
Tub of chocolate frosting
Candy corn
Orange decorating icing
Black decorating icing
Mini M&M's
1. Bake round sugar cookies and let them cool completely. If you don't have a round cookie cutter (we didn't at the time!), just use a drinking glass.
2. Pipe chocolate frosting (using a pastry bag or ziplock with a small hole in the corner) about halfway around the cookie, along the outer edge. Arrange candy corn over the frosting for feathers.
3. Use two dabs of orange icing to attach green mini M&M's for the eyes. Dot black gel on the M&M's for pupils.
4. Use orange icing to draw the turkeys' beaks and feet.
(They look pretty cute here, even without the feet!)