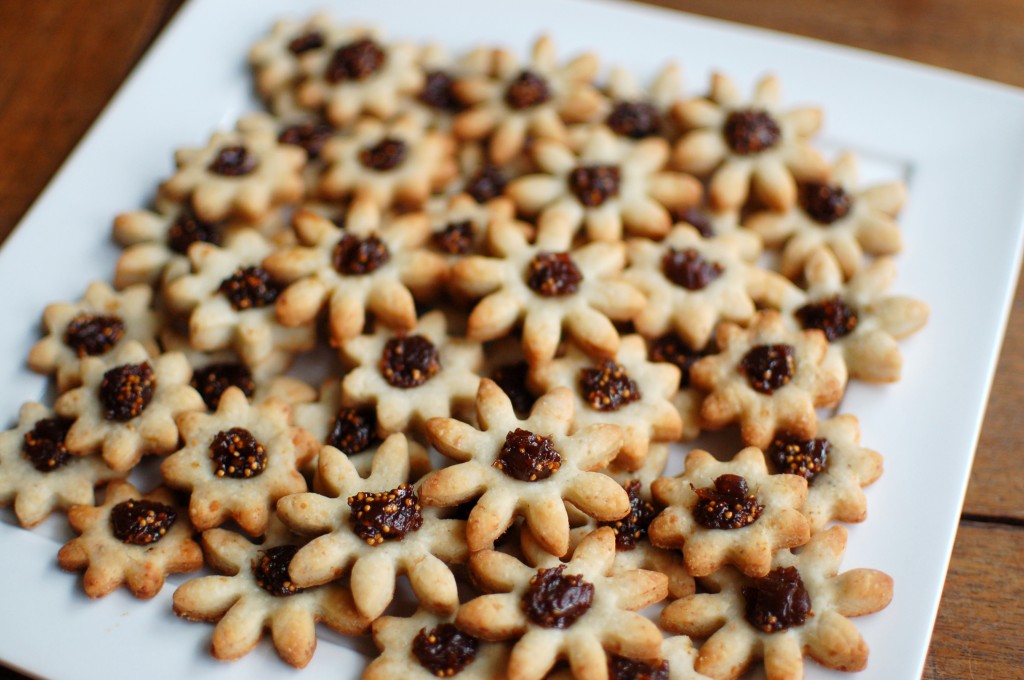 I recently needed to make an appetizer that could sit for 3 hours in a warm car, and it wasn't until a few days before that I realized just how heavily most appetizers rely on either refrigerators or ovens.
Undaunted, I sifted through the pages of Epicurious (my favorite recipe starting point, besides The New Best Recipe cookbook) until I found the recipe for these "savories." No need to be disappointed that these little crackers aren't sweet. I love a good jam cookie, but these are like grown-up Goldfish crackers — equally tempting to eat by the handful, but also beautiful enough to serve for a special occasion!
I highly recommend choosing a pretty cookie cutter over the circle recommended in the original recipe. We all know how I love to customize with cookie cutters! Try stars or even letters, if they have enough room for the jam. These crackers hold their shape well.
Blue Cheese and Fig Jam Crackers
adapted from epicurious.com
I made a few modifications to the original recipe based on reviews, namely adding salt and rolling them out thicker. The dough, which is easily made by dumping things into the food processor, can be refrigerated for days before using, though it needs a generous amount of time to warm up before rolling.
Ingredients:
1 cup all-purpose flour
8 tablespoons (1 stick) unsalted butter, at room temperature
4 ounces blue cheese, crumbled
1/2 teaspoon salt
Freshly ground black pepper
About 3 tablespoons fig preserves (we used homemade jam we had in the freezer, made for our Autumn Appetizer Party (tasted great 5 months later!))
Directions:
1. Heat the oven to 350°F. Line a baking sheet with parchment paper.
2. Place the flour, butter, blue cheese, salt and a few grinds of black pepper in the bowl of a food processor and process until the dough just comes together and starts to form a ball.
3. Dump the dough out onto a lightly floured surface and knead a few times to pull it together. Then roll out to a 1/4-inch-thick circle with a floured rolling pin. Cut shapes out of the dough with a 1-inch cookie cutter and transfer to the parchment-lined baking sheet. Reroll the scraps, working the dough as little as possible, and cut more.
4. Using your finger tip or knuckle, make an indentation in the center of each cracker. Spoon about 1/8 teaspoon of the fig preserves into each indentation.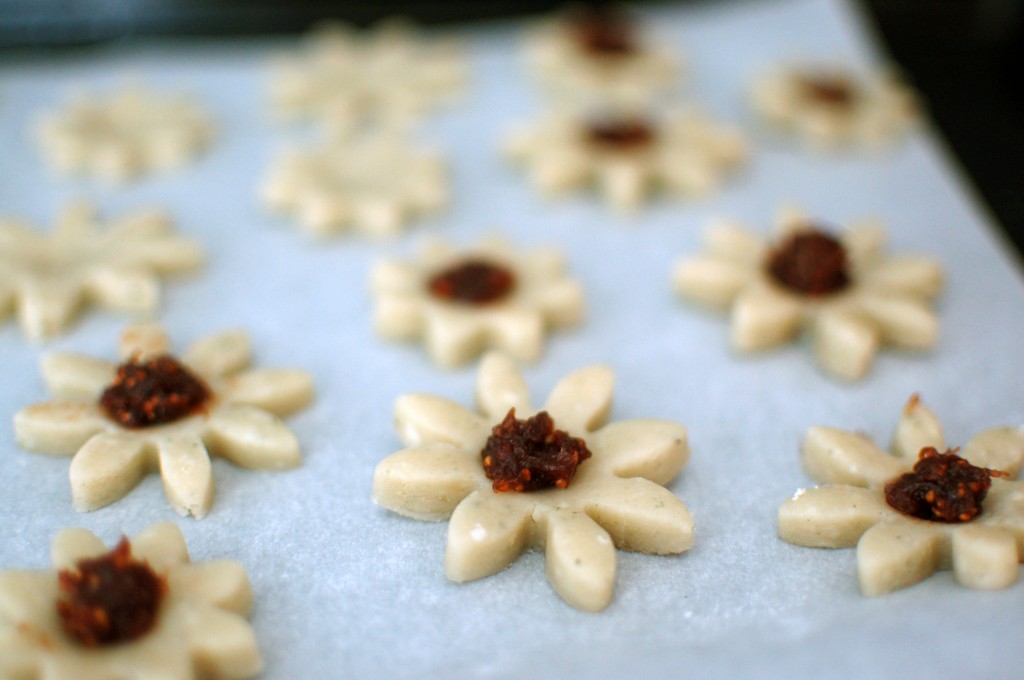 5. Bake the crackers until the pastry is light golden on the bottom, 8-10 minutes. Transfer to a wire rack to cool.
Do ahead: The dough, wrapped in plastic, can be refrigerated for several days before baking. Allow time for it to warm up before rolling it out. Baked crackers can also be frozen, jam and all, between layers of parchment paper (and you can reuse the parchment that you bake them on). To defrost, set the crackers in a single layer on paper towels. The batch we served on Easter came out of the freezer, and Greg and I both thought they tasted as good as fresh.