As soon as I read "frozen yogurt in a food processor," I was off to check my frozen berry supply. This summer full of cheap strawberries has kept both our fridge and freezer stocked, so we enjoyed our first batch of ice-cream-maker-free frozen yogurt that very night. Which is just ridiculous, really, because we have an ice cream maker and it's incredibly easy and we love it. But this approach was novel, I had the ingredients on hand, and I was intrigued by using nonfat yogurt.
I'm happy to report that everyone loved it, and no one noticed that the yogurt was non-fat and the sugar supplemented with Splenda. It's a heart-friendly treat for those without ice cream makers (and the rest of us)!
Strawberry Frozen Yogurt (Without an Ice Cream Maker)
Adapted from The Food Network
Serves 4
Ingredients
3 cups frozen strawberries, hulled
1/2 cup sugar (or combination sugar and Splenda. We've made it with as much as 1/4 cup Splenda.)
1 teaspoon lemon zest
1 teaspoon lemon juice
2 teaspoon rum
2/3 cup vanilla yogurt (nonfat works great)
Note: dial back the lemon juice and zest if you don't like tangy desserts.
Directions
1. Add frozen strawberries, sugar, lemon zest, lemon juice, and rum to food processor bowl and toss.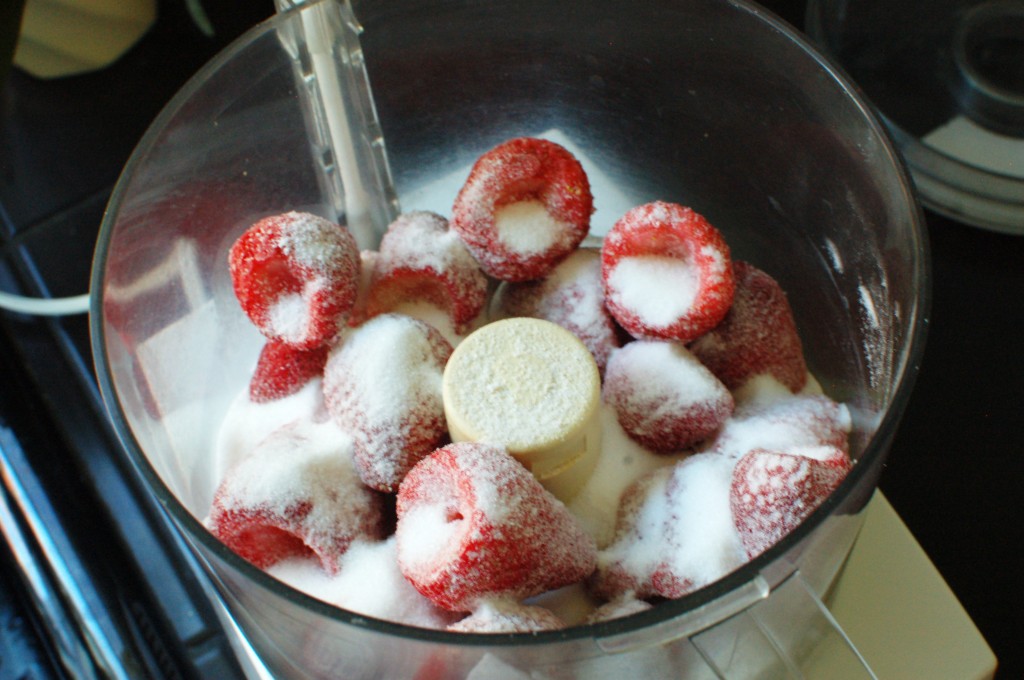 2. Cover and let the strawberries sit at room temperature for about an hour.
3. Pulse the berries, and then add the yogurt. Continue to blend until smooth.
4. Transfer yogurt mixture to a lidded container and freeze for several hours until hard enough to scoop.
5. Enjoy!