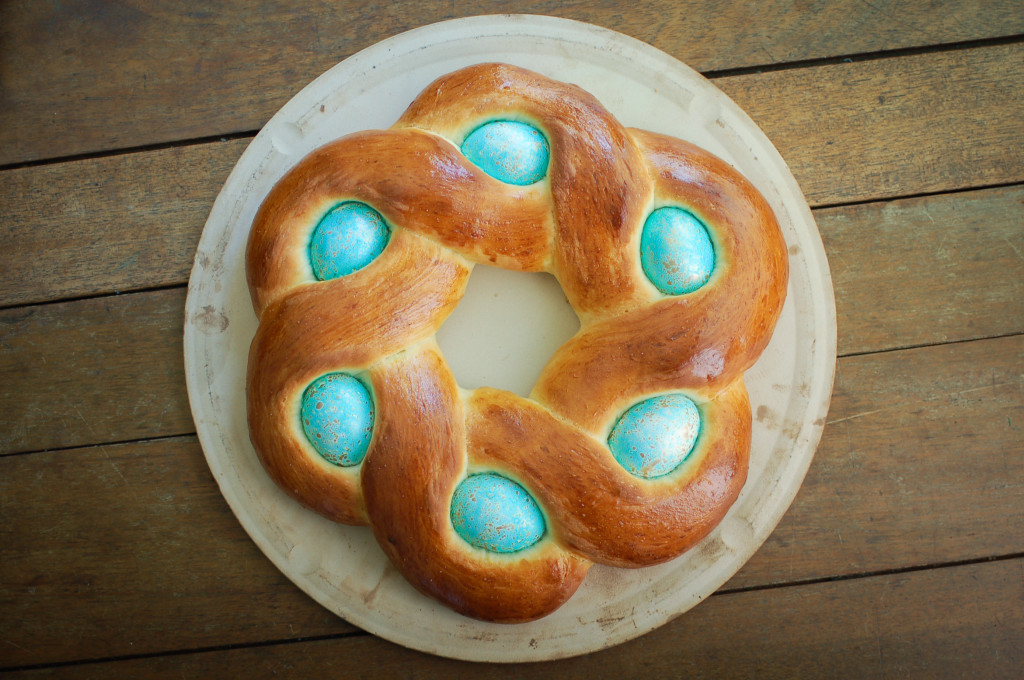 I have a definite preference for bringing pretty foods to parties and potlucks; I never contribute meat, for example, and have mostly avoided green salads. Even though my dishes are generally well received, I figure I can only get away with donut pops and sugar cookies so many times, right? Because of this, I'm always excited to find beautiful savory foods (bonus points if they're holiday-themed).
After seeing many vibrant, frosted, sprinkle-y (three things I love!) Easter egg breads gone terribly crazy wrong, I was happy to find a few chic examples. After seeing this wreath, I fell in love with the robin's egg idea and set about recreating it.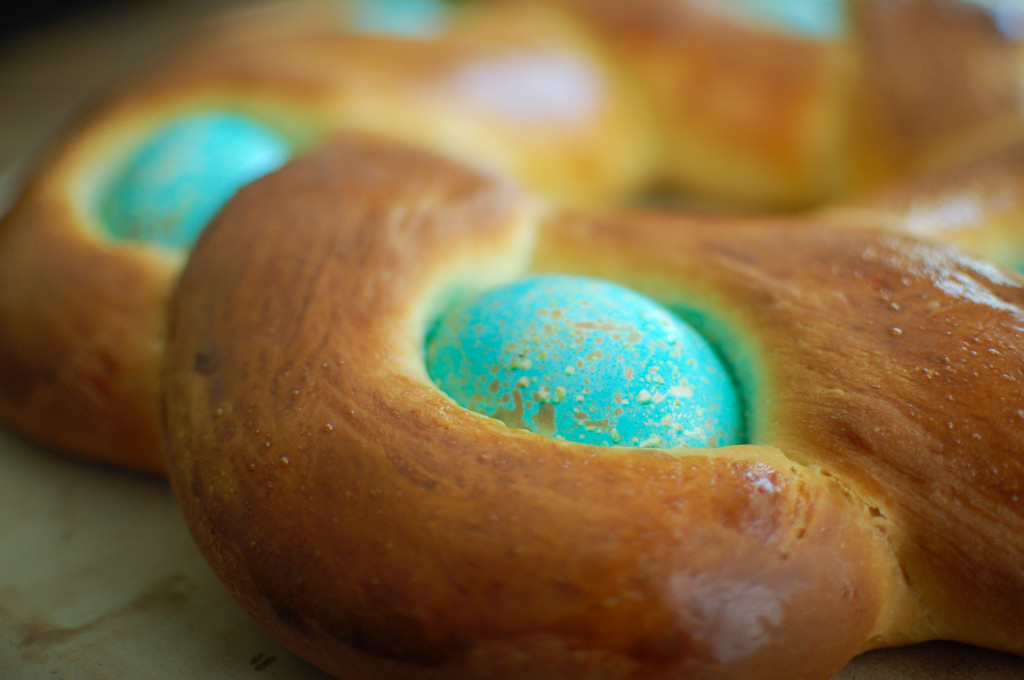 I dyed my (uncooked) eggs turquoise with food coloring. Rather than brown paint, I decided to add flecks of gold, and I splatter painted the eggs with non-toxic paint. Then I lightly coated the colored eggs in oil—it supposedly helps prevent color splotchiness from condensation on the eggs.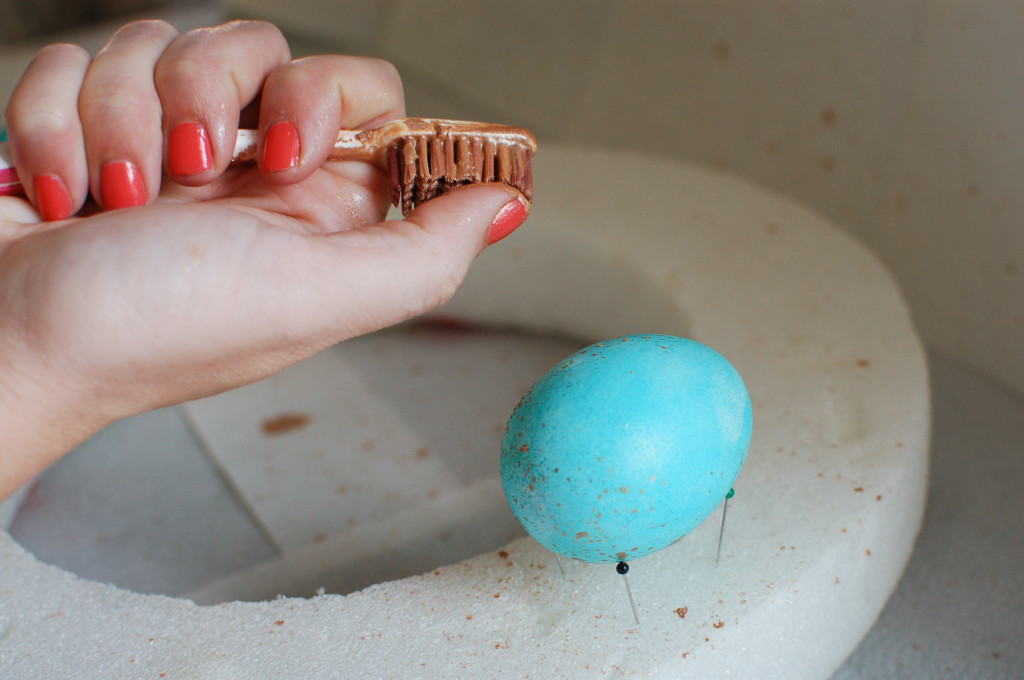 After decorating the eggs, I found a highly reviewed recipe and went for it! Creating the wreath shape looked impossible (and I was nervous), but I can assure you that it's easier to do it than it is to read how to do it. The dough is also nice and flexible with plenty of room for error and adjustment.
Easter Egg Bread Wreath
Adapted, only slightly, from allrecipes.com
Ingredients
2 1/2 cups all-purpose flour, divided
1/4 cup white sugar
1 teaspoon salt
1 (.25 ounce) package active dry yeast
2/3 cup milk
2 tablespoons butter
3 eggs
6 dyed eggs, brought to room temperature
Directions
1. In a large bowl, combine 1 cup flour, sugar, salt and yeast; stir well.
2. Combine milk and butter in a small saucepan; heat until milk is warm and butter is softened but not melted.
3. Gradually add the milk and butter to the flour mixture; stirring constantly.
4. Add two of the eggs and 1/2 cup flour; beat well.
5. Add the remaining flour, 1/2 cup at a time, stirring well after each addition.
6. When the dough has pulled together, turn it out onto a lightly floured surface and knead until smooth and elastic, about 8 minutes.
7. Lightly oil a large bowl, place the dough in the bowl and turn to coat with oil.
8. Cover with a damp cloth and let rise in a warm place until doubled in volume, about 1 hour.
9. Deflate the dough and turn it out onto a lightly floured surface.
10. Divide the dough into two equal size rounds; cover and let rest for 10 minutes.
11. Roll each round into a long roll about 36 inches long and 1 1/2 inches thick.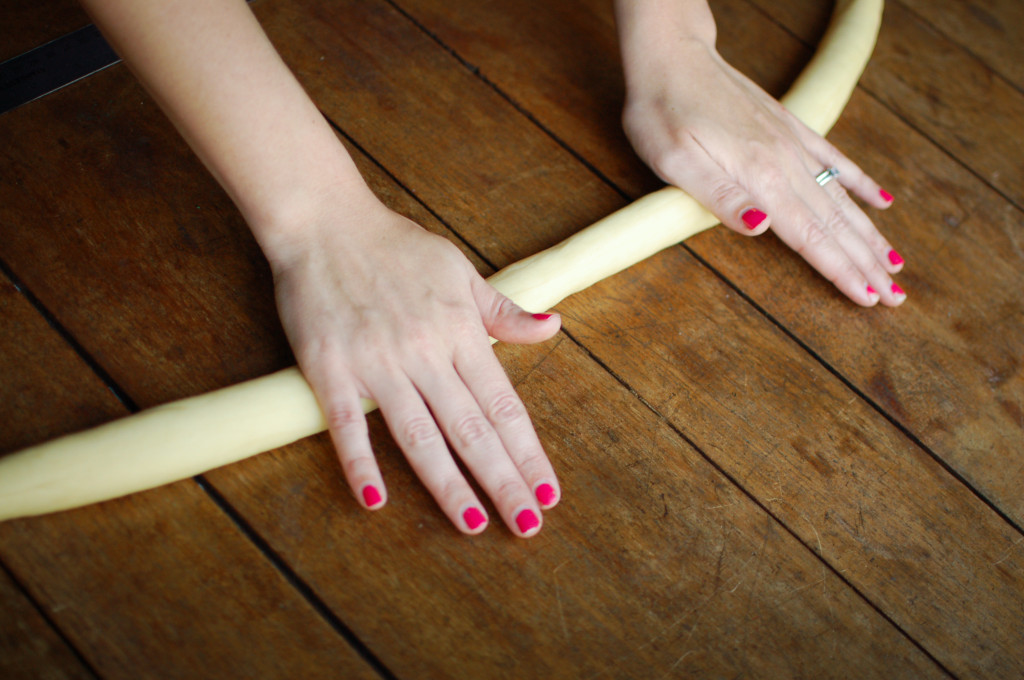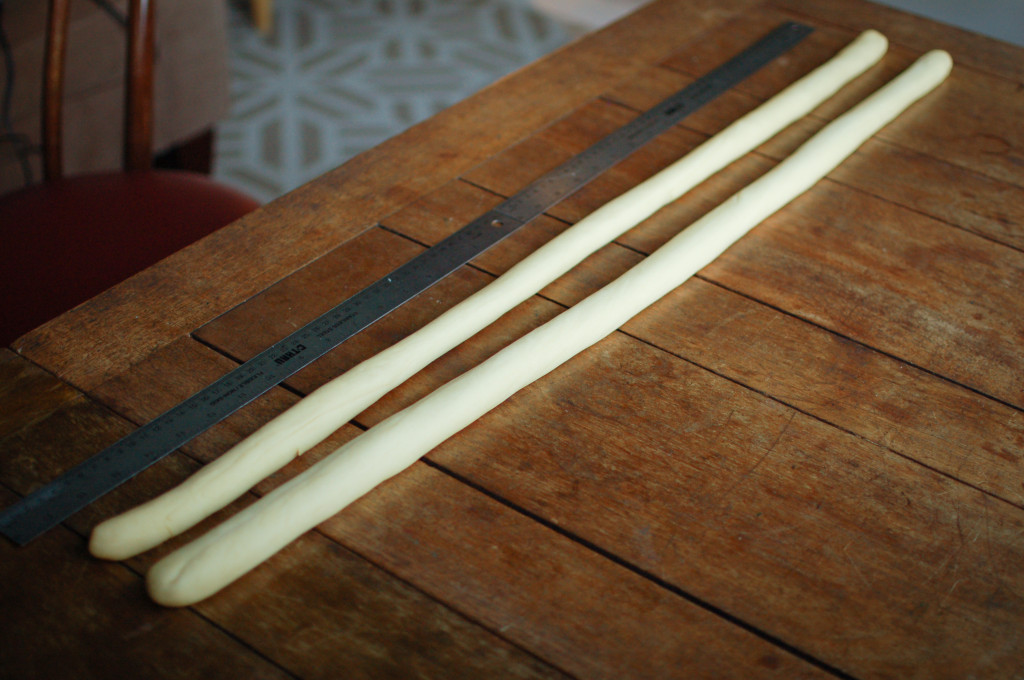 12. Set the two rolls of dough parallel to each other, slightly offset (this will help hide the ends later). Criss-cross the pieces to form a loosely braided ring, leaving gaps for the colored eggs.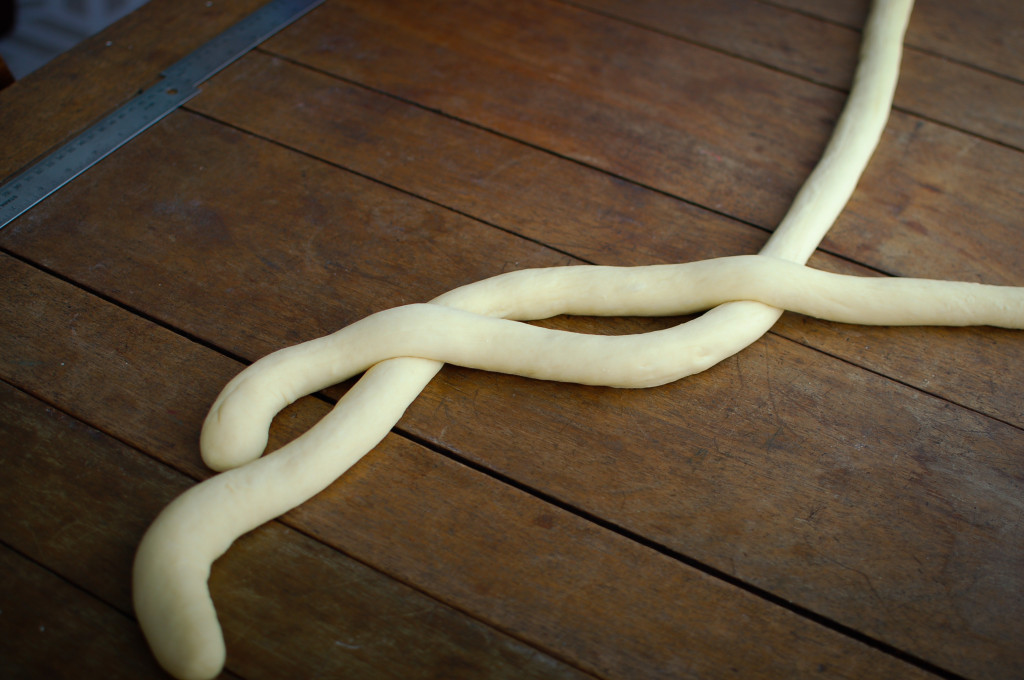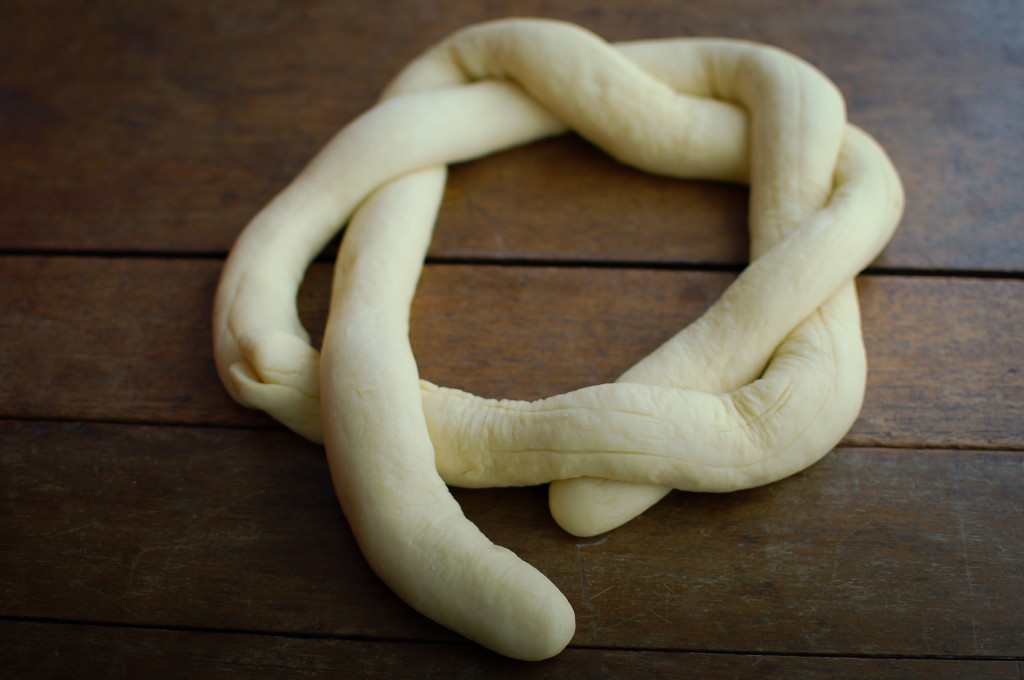 13. Seal the ends of each roll together and tuck under the other roll, if possible.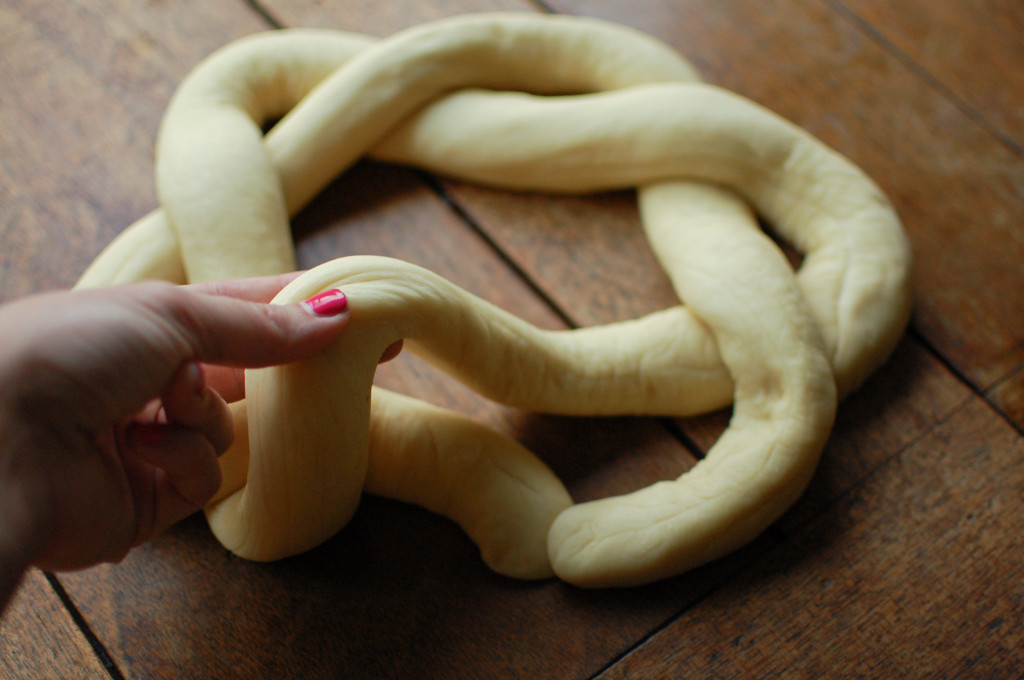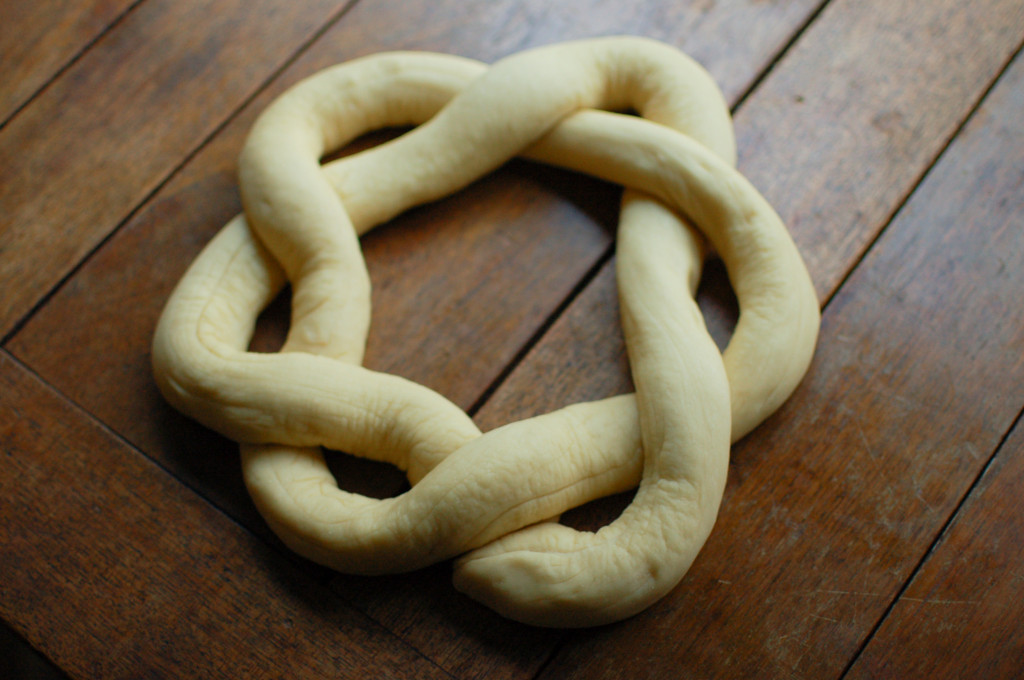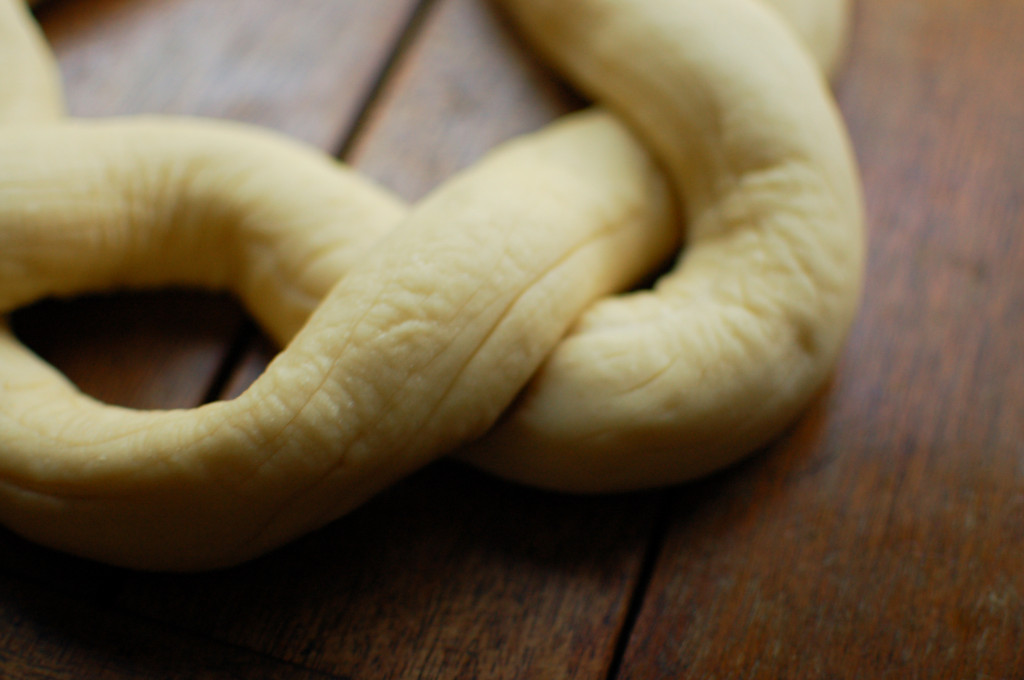 14. Transfer the dough to a greased baking sheet.
15. Slide eggs in matching orientation (wide end of egg, pointy end of egg followed by wide end of egg, pointy end of egg etc.) into slots and reshape dough as needed.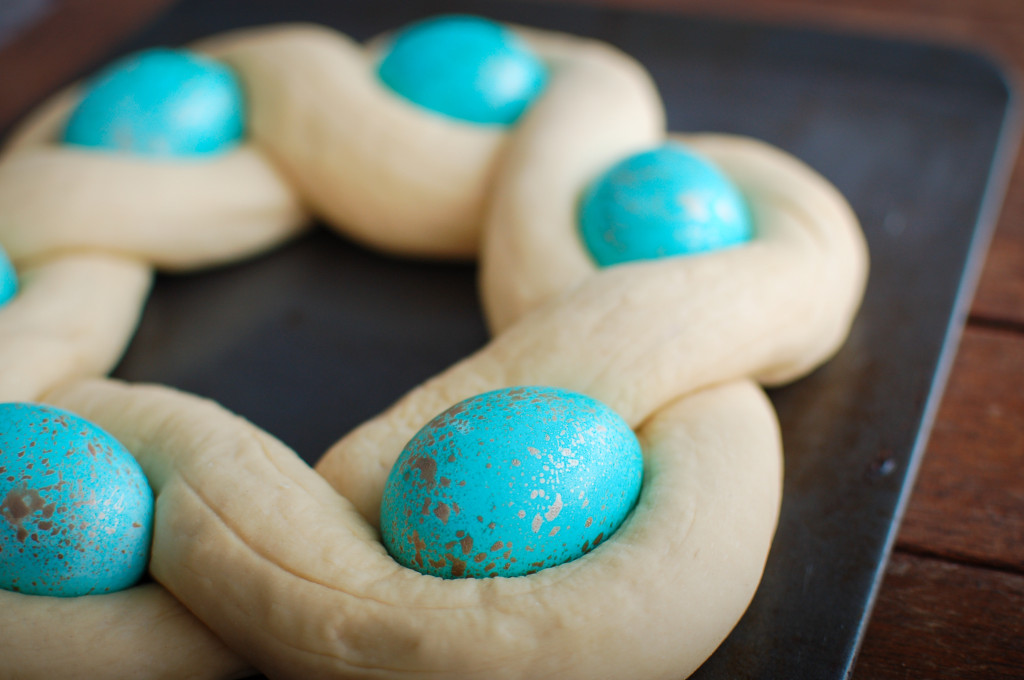 16. Cover loosely with plastic wrap and set in a warm place and to rise until doubled in bulk, about 45 minutes.
17. Preheat oven to 350 degrees fahrenheit.
18. Lightly beat remaining egg and brush a coat over risen dough.
19. Bake in preheated oven for 20 to 25 minutes, or until golden.
The finished wreath will be quite large—larger than I had anticipated and larger than any of my platters! I ended up liking the round look of a pizza stone for serving, though a large cutting board or even the cookie sheet would work, as well.
Have a wonderful Easter!