9 Dec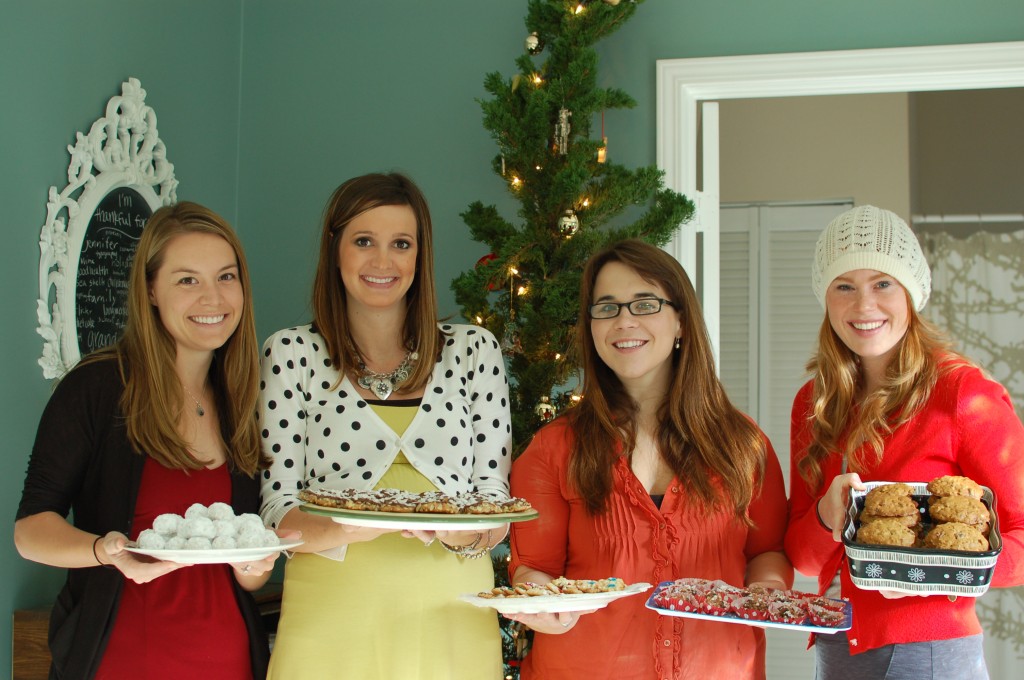 Last weekend (oh my gosh, was it really just last weekend?!), I had the pleasure of hosting a small cookie swap at our house. For those unfamiliar with cookie swaps/exchanges, it's just a get-together where each person brings several dozen of one type of cookie. Everyone divides up their cookies amongst the other guests and goes home with a variety!
We exchanged a few cookies, a few recipes and a disaster story or two. We also had cocoa and tea along with the surplus cookies and some bread and cheese to balance out the sweets. Yum! This was my first time hosting a cookie swap, but I'll definitely do it again!
For my cookie contribution, I made what my family has always called Pecan Puffs and what the rest of the world seems to mostly call Russian Tea Cakes or Mexican Wedding Cakes. Whatever you call them (fluffy snowballs of sugary goodness?), they're a holiday classic and pretty easy to make.
Supplies:
1 cup butter or margarine, softened
1/2 cup powdered sugar
1 tsp. vanilla
2 1/4 cups flour
3/4 cup finely chopped pecans
1/4 tsp. salt
Powdered sugar for rolling
1. Heat oven to 400ºF.
2. Mix butter, 1/2 cup powdered sugar and the vanilla in large bowl. Stir in flour, nuts and salt until dough holds together.
3. Shape dough into 1-inch balls. Place about 1 inch apart on ungreased cookie sheet. (The recipe is supposed to make four dozen, but I ended up with far fewer than that, despite being careful about their size.)
4. Bake 10 to 12 minutes or until lightly browned on the bottom. Remove from cookie sheet and cool slightly on wire rack.
5. Roll warm cookies in powdered sugar. Let cool on wire rack, and then roll in powdered sugar again.