10 Mar
St. Patrick's Day is just a week away, but there's still plenty of time to whip up a pretty Irish flag cake! You just need round cake pans and a little food coloring to turn a boxed cake mix into a green, white and orange celebration cake.
Just divide the white cake batter into as many bowls as you'll have layers (three for the Irish flag) and color it.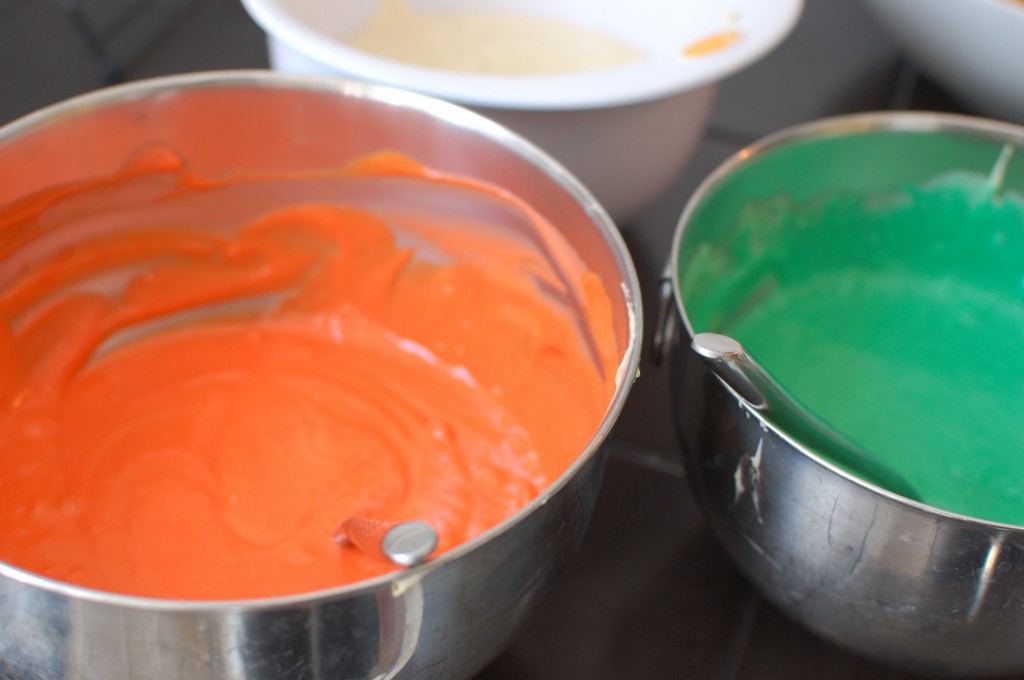 Bake as directed. After the baked layers cool, they need to be leveled so they can be stacked nicely. My mom bought me a fancy schmancy leveling tool, but a serrated knife or dental floss also work. I used whipped cream frosting between layers and on the top, though you could use a tub of frosting instead.
Part of the fun in colored cakes is the disguise! An innocent looking white cake is surprisingly festive inside. (Perfect for parties to reveal baby's sex!) This cake also served as a bonus birthday cake for my friend Jill.
I love cakes with tons of layers and with three round pans, I can cut the layers in halves and make a six layer cake! Though I haven't tried it yet. I can't wait to make a cake with varying shades of the same color, or a whole rainbow inside!
Here's where I wish I had a photo of a piece of the cake! The slices look even more like the flag than the cake itself, as the surface is rectangular and the stripes are in the proper orientation (if the piece is set on its side).
All in all, I was so happy with how the flag cake turned out. Party desserts should always be this much fun to eat!